I've spent quite a bit of time touting the merits of momma's cooking on my blog. After all, I owe most of my culinary knowledge, interest, and experience to her. Better yet, her influence has had a much greater reach than just me. She's also rubbed off on my beautiful sister as well.
I spent the night at my sister's house last Friday after a long drive into Atlanta. Pretty much exhausted, I was greeted with plenty of wine, beer, and conversation upon my arrival. To put it bluntly, Friday night stays at her house often end up in a 'black hole' evening of drinking, dancing, and eating. Once the music is on - forget about it. Good times.
But sis had one more trick up her sleeve. A delicious take on grilled pizza that perfectly suited our penchant for late-night eats. She's always been great at finding new delectable recipes - whether from the pages of Southern Living or from a friend - and making them her own. She's crafty like that.
This one was absolutely delicious - and I really loved the use of garlic butter in place of a traditional tomato sauce. Good work sis - and the end result turned out just as beautiful as you!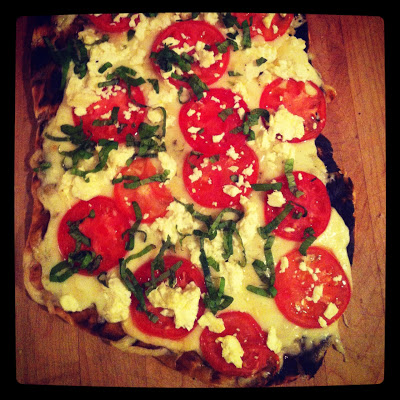 Grilled Pizza
1 Store-bought Pizza Dough, thawed
Extra Virgin Olive Oil
2 Tablespoons Unsalted Butter
2 Cloves Garlic, minced
10 oz Fresh Mozzerella, sliced thin
1/2 Cup Parmesan Cheese, grated
1/2 Cup Feta Cheese, crumbled
2 Roma Tomatoes, sliced thin
Fresh Basil, sliced thin
Pinch of Sea Salt
Preheat one side of a grill over direct heat. Meanwhile, roll out the pizza dough as thin as possible (less than 1/8 inch) and coat in olive oil. Melt butter and garlic together in a microwave for 45 - 60 seconds. When grill is ready, carefully stretch the dough over the grate and grill for 60 - 90 seconds - the dough will puff up and bubble. Flip dough and move to indirect heat. Brush dough with garlic butter and top with remaining ingredients. Cover grill, and continue to cook pizza over indirect heat until cheese is melted; 10 - 15 minutes. Remove from heat, slice, and serve.