Sandwich - for dinner?
I know what you are thinking . . . sandwiches don't technically fit into typical dinner fare.
Think of this as a gourmet sandwich, made simple: It's great for a weeknight dinner. Pair this up with some oven roasted french fries and a glass of red wine, and you might think you are dining at a bistro on the outskirts of Paris. Well, not really - but it never hurts to imagine.
I went with Flank Steak in this recipe as it's relatively cheap and easy to find. This lean cut is best served when seared quickly to medium/medium rare and sliced thin across the grain, as shown here.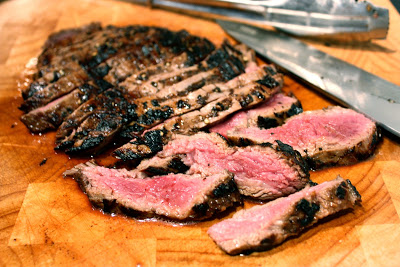 Let's break this down into a few simple steps and get started. Don't forget to enjoy a glass of wine during the process.
Grilled Flank Steak Sandwiches w/ Garlic/Basil Mayo and Caramelized Onions
Caramelized Onions
2 Tablespoons Extra Virgin Olive Oil
2 Cups Yellow Sweet Onions, sliced thin
1/2 Teaspoon Kosher Salt
Garlic/Basil Mayo
1/4 Cup Mayonnaise
2 Cloves Garlic, minced
1 Pinch Kosher Salt
1 Teaspoon Fresh Basil, chopped
1 - 2 Dashes Worcestershire
Grilled Flank Steak Sandwiches
1 Loaf Whole Grain French Bread
1 lb Flank Steak
Extra Virgin Olive Oil
Kosher Salt
Fresh Cracked Black Pepper

Method:

1. Onions:
In a skillet over medium low heat, combine oil, onions, and kosher salt and saute for 25 - 30 minutes, stirring on occasion until onions are browned and tender.
2. Mayo:
Combine minced garlic and kosher salt onto a cutting board. Using the flat side of a chef's knife, work the ingredients into a paste on the board. Combine garlic paste with mayo and remaining ingredients. Cover, and keep chilled until ready for service.
3. Sandwich:
Slice French bread into approximately two 6 - inch servings. Next, slice the bread horizontally to create a sandwich top and bottom. Place each slice under a broiler for 30 seconds - 1 minute, or until slightly browned and crispy. Meanwhile, drizzle extra virgin olive oil over the flank steak and season both sides liberally with kosher salt and fresh cracked pepper. Add steak to a grill/grill pan over medium- high heat and cook for approximately 2 - 3 minutes per side for medium rare. Remove steak from grill and set aside to rest for 3 - 4 minutes. Begin assembling sandwich by spreading a layer of mayo on each side of the toasted bread. Next, thinly slice steak across the grain and add to the bottom portion of the sandwich. Top with caramelized onions and serve.