Be sure to tune in this morning to catch my segment on The Today Show, on the 4th hour from 10:00 a.m. to 11:00 a.m. EST with Kathie Lee and Hoda! Super stoked to be hanging out and cooking with these two beautiful women. Thanks ladies!
If this is your first visit to the site, welcome. Please enjoy a drink, and stay awhile. You can purchase a book by clicking on any of the links on the right hand side of our website via Amazon, Barnes and Noble, or get a digital copy in the Apple Bookstore.
For all press/media inquiries, please send us an email at
lastresortpress@gmail.com
The following recipes were featured on today's program. Enjoy and Keep Peaceful!
MM
Wine Pairing - Pinot Noir
(recommended: Etude Pinot Noir)
½ lb Sharp White Cheddar Cheese, sliced
On a serving platter, arrange slices of cheese alongside the roasted almonds and olives. Serve.


Goat Cheese and Spinach Salad
4 Cups Fresh Baby Spinach, loosely packed
½ Green Apple, diced into bite size pieces
¼ Small Red Onion, thinly sliced
2 Tablespoons Pecans, cut in half
¼ Cup Extra Virgin Olive Oil
1 ½ Tablespoons Balsamic Vinegar
¼ Teaspoon Fresh Cracked Pepper
¼ Cup Crumbled Goat Cheese
Layer the first four ingredients into a serving bowl or plate. In a mixing bowl, whisk together the oil, vinegar, kosher salt, and pepper until combined. Drizzle the dressing over the greens and toss to coat the leaves evenly. Top with goat cheese. Serve.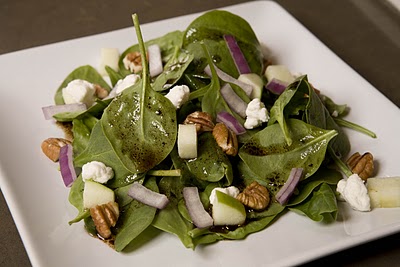 Pan Seared Salmon with Parmesan Cream Cheese Grits and Roasted Okra
½ lb Fresh Okra, washed with ends removed
4 Tablespoons Extra Virgin Olive Oil, divided
1 Cup Quick Cook Grits
2 Tablespoons Unsalted Butter
2 Tablespoons
Parmigiano Reggiano Cheese, grated
¼ Cup Heavy Cream
2 6-8 oz Salmon Filets, skin removed
2 Teaspoons Red Bell Pepper, finely diced for garnish
Preheat oven to 350 degrees F. On a baking sheet, lay out okra in a single layer; drizzle with 2 tablespoons of oil and season with kosher salt and pepper, toss to coat. Place okra on the top rack of the oven and roast for 25-30 minutes, turning on occasion. Bring 3 ½ cups of water to a boil in a small pot. Slowly add grits, butter, and ½ tablespoon of salt to the water. Stir until the mixture returns to a boil, ensuring an even consistency. Reduce heat to medium-low, cover, and cook for 5-7 minutes, stirring on occasion until mixture is thick. Add Parmigiano Reggiano cheese and heavy cream to grits and stir until well combined. Meanwhile, preheat a cast iron skillet over medium heat and season salmon filets with kosher salt and pepper. Add 2 tablespoons of olive oil to the skillet followed by the salmon filets; cook, undisturbed, for 3-4 minutes. Squeeze the juice of ½ lemon over the top the filets; flip. Cook filets for 2-3 more minutes, or until internal temperature reaches 135 degrees F; remove from heat. Plate a generous portion of grits in the center of the plate, followed by the salmon and okra at either side. Sprinkle with diced red pepper for garnish. Serve.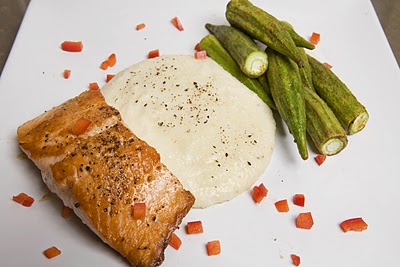 2 Large Apples, Golden Delicious or Granny Smith
4 Tablespoons Unsalted Butter, in 1 tablespoon increments
½ Teaspoon Ground Cinnamon
Vanilla Ice Cream
Preheat oven to 350 degrees F. Wash and dry apples, slice in half, remove core and seeds using a spoon or knife. In a baking dish, carefully arrange apples flesh side up. Sprinkle evenly with brown sugar and cinnamon and top each half with a tablespoon of butter. Bake until apples are tender and bubbly, about 35-40 minutes. Remove apples from baking dish and plate 2 halves on each serving plate. Serve alongside a scoop of vanilla ice cream.