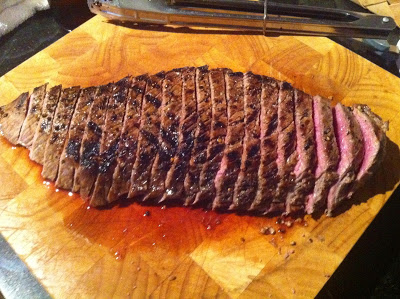 My apologies on my somewhat lacking food photography. The truth is, the old macbook decided to go on the fritz, so while it is in the shop, I'm left to posting photos via my iPhone. Hopefully I'll be back up and running at full strength here in a few days.
Anyways, what I may lack in beauty, I can certainly tell you I'm making up for in flavor. For those of you who are regular readers of my blog you may know two things. 1) I'm not afraid to enjoy a cocktail in the kitchen. 2) I'm typically not a fan of frou frou cooking.
Instead, I like to provide delicious recipes that can be prepared without a culinary degree, or a trust fund. In my many posts regarding steaks, grilling, etc. I've constantly purported that the lesser known, more humble cuts of meat tend to be my favorite. It's no different with the classic preparation known as the London Broil.
Note I said "preparation" and not "cut". Most people tend to refer to the flank or top round cut as a London Broil - but that name is truly derived from the preparation and cooking process, not the cut.
Anyways, the London Broil is a great way to entertain guests on the cheap. You get a great price on a cheaper cut of meat, and through marinade, preparation, and service - your steaks get a deliciously flavorful cut of "steak". It's a win win in my opinion.
How do you win? Glad you asked. First things first - unlike a premium cut such as a filet or ribeye, I strongly suggest marinating this cut overnight, or for at least 4 hours. A good mixture of acidity will help breakdown and tenderize the meat. Second, cook over high heat, and to medium rare/medium. Overcooking this steak will cause it to become tough and chewy. Lastly - pull out that electric knife you got in your registry. By slicing this meat very thinly and across the grain, you are able to "tenderize" this humble cut of beef. That's that, let's get to work.
Before I give away my recipe, I gotta brag on this new gem I received from Lodge Cast Iron cookware. I'll be out on the road in the coming months shooting some scenes for a new project in the works, and Mark Kelly and the fine folks at Lodge sent this over for filming. It's truly awesome. Thank you guys!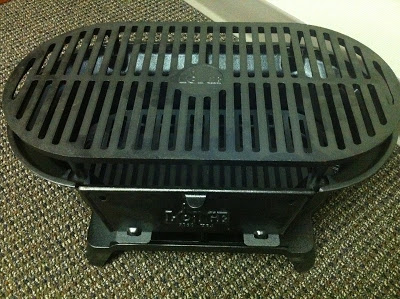 Classic London Broil
1/2 Cup Extra Virgin Olive Oil
1/4 Cup Balsamic Vinegar
4 Garlic Cloves, crushed
2 lb Flank or Top Round Cut
Kosher Salt
Fresh Cracked Pepper
Add the first four ingredients into a Ziploc bag and marinate overnight, or at least 4 hours. Preheat grill or coals over high heat. Remove steak from bag and shake off excess marinade; season both sides liberally with salt and pepper. Grill steak over direct heat for 4 - 6 minutes on each side for medium rare. Remove from grill and allow to rest for 3 - 5 minutes. Next, use an electric knife to slice the steak thin and across the grain. Serve.