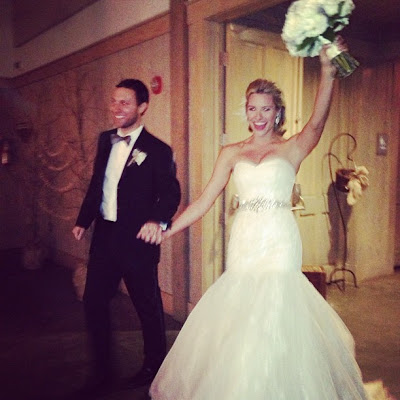 Well - it worked . . .
Just a few short years ago, as a single guy, I wrote a little book called "Have Her Over for Dinner; a gentleman's guide to classic, simple meals". The idea was simple - teach guys of any skill level - how to cook a romantic meal for their special lady - all the other bullshit aside. No pretension, no gimmicks, and certainly no hard to understand techniques or mystery ingredients.
The NYTimes named the book one of the years best, and it's been a whirlwind ever since. Many, many ups along the path - and of course a few downs (the path gets steeper with more success).
Above all, I've had great support from family, friends, and fans. Thank you.
I'm happy to announce that I've officially married that girl I "had over for dinner". Pan Seared Salmon, Asparagus, and Risotto was what did the trick!
So cheers to you and yours on love, marriage, and a lifetime of happiness. Can't wait to share with you all about the next journey (book, show, etc). What a long, strange trip its been.
Best,
MM