Writing about food can be tough. After all, there are only so many recipes one can write - re-takes on classics, healthy versions of comfort food, or creative twists on the mundane. After a while, it seems like I'm just re-hashing the same old stuff. Ok I get it - I'm bitching about small potatoes (pun intended). Food writing isn't tough like running a marathon or anything. Perhaps I should say sometimes I'm less than 'inspired'.
That's why I love coming up with new techniques - such as this 'reverse marinade'.
A few weeks back, I was having some friends over for a 'Greek' themed meal - Charcoal Roasted Chicken, Oven Roasted Potatoes w/ Lemon Thyme Oil, and my famous Greek Salad - all with a fresh heaping of Tzatziki for dipping anything and everything.
Minutes before serving - I realized my friend had a deathly aversion to cucumbers - the tzatziki just wasn't going to do it. So, I whipped up this quick dressing instead - doused it on top of his chicken, and viola - I was a genius in his book.
Moral of the story? The next time you are grilling up Turkey, Pork, Fish, Chicken, Steak, or Wild game - skip out on the lengthy marinade process. Instead - cook your meats to temp - rest - slice - and pour this tangy 'dressing' over the top.
I can promise you will not be let down. In fact - It'll be hard for me to go back to eating a steak w/out it.
Cheers!
MM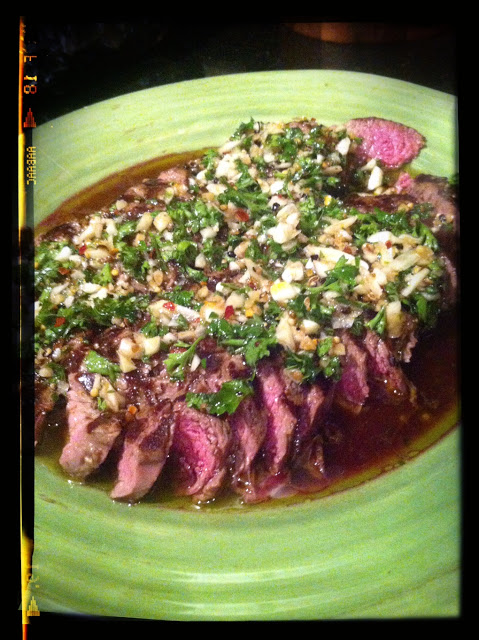 Reverse Marinade
- good for use on basically any protein
(Prep 5 mins, Yeild 6 - 8 servings, Keeps 1 week covered in fridge)
1 Cup Extra Virgin Olive Oil
1/3 Cup Red Wine Vinegar
1/4 Teaspoon Crushed Red Pepper
1 Tablespoon Spicy Mustard
1 Shallot, minced
4 Cloves Garlic, minced
1/4 Cup Chopped Parsley
Kosher Salt + Pepper, to taste
Whisk all ingredients until combined - pour over sliced meat. If prepped in advance, bring back to room temperature, mix well and serve.