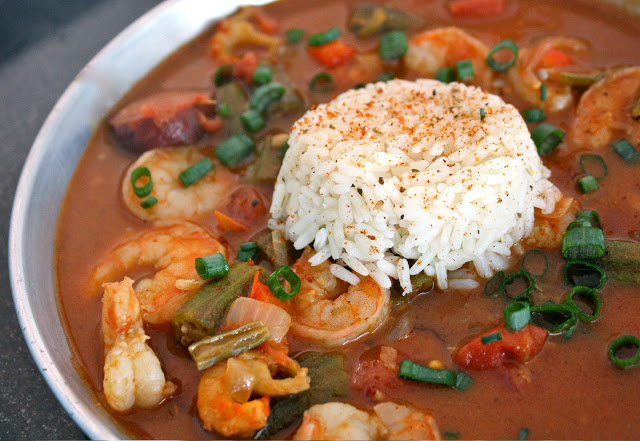 There's just something about the Fall season that puts me in a New Orleans state of mind. I suppose it has something to do with the Cajun style of cooking that seems to satisfy my cravings for comfort food. Regardless of the reason, I can attest that a day of cooking Seafood Gumbo is a day well spent.
For me, it typically tends to happen on a Saturday or Sunday. Once I get the urge, I head down to Little's Fish Company and pick up a mess of the best seafood I can find - shrimp, crawfish, crab, fish, etc. That's what I like about Seafood Gumbo - the thick roux and base is simply just a carrier for whatever seafood you can find. It's rustic, real, and delicious.
Keep in mind that a big pot of gumbo is meant to be shared. I enjoy inviting 10 - 15 of my closest friends over for a day of watching football, drinking beer, and eating this delicious creole creation.
Of course, I should come clean that everyone has their own 'style' when it comes to making this dish. Mine is a melange of many different versions and experiences, ranging from my New Orleans friend's 95 year old grandma, to a simple quick shrimp gumbo that's been in my family for years. Regardless of your method, one thing is certain - it's ALL about the roux.
Creating a dark, thick roux takes time and patience. In fact, as the roux begins to darken and caramelize, the chances of burning the roux (and ruining the dish) increase each minute. For that reason, I like to have all of my ingredients prepped and ready to go. After that, I stand by my pot for 45 minutes, cold beer(s) in hand, and make sure that I get this most crucial element just right. After that - it's simply just a matter of 'stirring and dumping' to complete the rest of the meal.
Seafood Gumbo
1 lb Andouille Sausage, cut crosswise into ¼ inch thick slices
3 Cups Okra, cut into ½ inch slices
1 Cup Vegetable Oil/Butter/Shortening
1 Cup Flour
1 Large Onion, finely diced
1 Large Bell Pepper, finely diced
2 Celery Stalks, finely diced
1 Tablespoon Creole Seasoning
1 14.5 oz Can Petite Diced Tomatoes
10 Cups Seafood Stock
1 lb Lump Crab Meat
1 lb Medium Shrimp, peeled and deveined
1 lb Crawfish Tail Meat
Hot Cooked Rice
Scallions, sliced

Preheat a Dutch oven over medium heat. Add sausage and cook until browned; remove and set aside on a plate. Next, add okra and sauté until just tender, about 3 - 4 minutes; remove and set aside on a plate. Combine oil and flour, stirring constantly, to make a dark brown roux, about the color of chocolate; 30 - 35 minutes. Add the onions, peppers, celery, and seasoning; sauté until tender, about 8 - 10 minutes. Add tomatoes, followed by the seafood stock and bring to a boil. Reduce heat to low, cover and simmer for 30 minutes. Add sausage and okra back into the pot, cover and simmer for 10 - 15 minutes, or until okra is just cooked through. Add the crab meat, shrimp, and crawfish; stir to make sure the seafood is immersed in the liquid. Turn off heat, cover, and allow the seafood to gently cook for 10 - 15 minutes. Shrimp and crawfish tail meat should be firm and bright in color. Serve in bowls topped with white rice and garnished with sliced scallions.