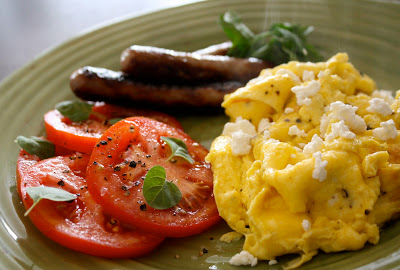 It's a beautiful Saturday morning in Nashville. Thanks to construction across the street, I'm up unusually early - the sound of saws, hammers, and workers screaming at each other just isn't very conducive to sleeping in - oh well.
Last night was a relaxed evening anyways. I finally got around to seeing Woody Allen's new film, Midnight in Paris - it was underwhelming.
So I decided to pick things up this morning with a great breakfast. After strolling down to the Nashville Farmers market, I scored some fresh tomatoes, greek oregano, farm fresh eggs, local feta, and some pork sausage to round out the rest of my Greek inspired meal.
After brewing a cup of Don Francisco's hazelnut coffee - I went to work.
Slicing the tomatoes - lightly seasoned with kosher salt, fresh cracked pepper, and a drizzle of olive oil - all topped off with some fresh oregano leaves.
After that, I simply seared the sausage in my cast iron pan, scrambled up some eggs - topped with feta - and there you have it - breakfast is served.
Time to hit the gym - and get started on the next course. Hmm - what to make today to help cheer on the Dawgs vs LSU. Time will tell.
Later,
MM