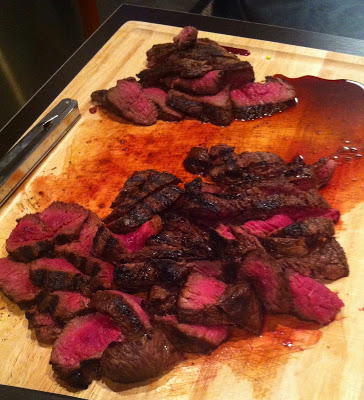 NOTE: This is probably one of those meals you don't want to serve on the first date. For most women, the thought of consuming med-rare wild game might be 'off-putting', so I don't suggest taking your chances. Instead, maybe serve her a roasted chicken breast, a sauteed shrimp, or a nice piece of fish. BUT: if you choose to be so bold and serve that lovely lady a slice of this Elk Steak, and she doesn't freak out . . . CAUTION: You've probably found "the one"
Ok, now that my legal team is satisfied with my disclosure, let's get to talking steak, and more importantly - Elk Steak. Fellow country music singer Easton Corbin bagged this beautiful animal in New Mexico, and I have been anticipating it hitting my grill for months. So, I was overjoyed when Chris Tate, (Easton's tour manager) had myself and Luke Bryan guitarist Michael Carter over for dinner. The catch? I had to cook.
Fine by me. For those of you daunted by such wild game - don't be. I'm probably starting to sound like a broken record these days, but the secret is simplicity. We had two different steaks (tender roast) which is just off the backstrap or tenderloin. These cuts are most similar to a tri-tip roast that you would prepare on a cow. Wild game? Sure. Game-y? No.
I heated my Lodge Cast Iron grill pan over medium high, and seasoned these cuts LIBERALLY with salt and pepper. A dash of oil, and balsamic vinegar adds a nice acidity and fruit to the meat. After that - on the grill. 4 minutes on each side. Remove from heat, tent with foil for 10 minutes. Slice thin and on the bias. Keep in mind that Elk is SUPER lean - so you want to serve medium rare (as pictured). If you over cook this meat, it will truly dry out and become tough.
I'd say I'm starting 2012 off in the right direction!
Snowing and 28 degrees here in Nashville today. Catching a plane to LA in a few hours - sunny and 80. Much needed.
Cheers and happy MLK to all!
MM