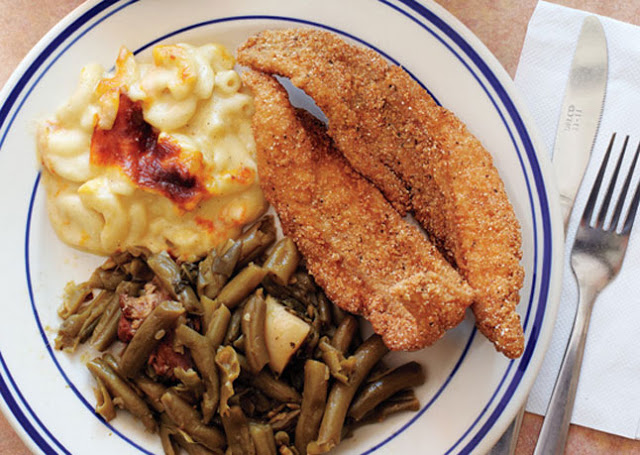 Arnolds Fried Catfish, Mac n' Cheese, and Green Beans - courtesy of Bon Appetit
It was nice to see Bon Appetit throw a little love towards my beloved city of Nashville today. In it's fantastic article, Black Key's Dan Auerbach reveals his favorite local haunts - highlighting everything foodie to meat and three. For those fans of Anthony Bourdain, it seems as though Auerbach has pulled a page out of his playbook. Riding alongside chefs to discover the food and drink that provide the pulse behind one of America's best music (and food) scenes. Visit here for full text, photos, and videos.
___________________________________________________________
It's just past midnight on Saturday, and I'm in the backseat of chef Tandy Wilson's Toyota pickup. Riding shotgun is Dan Auerbach, singer-guitarist for the Grammy-winning band the Black Keys. He's flipping through Wilson's CDs, nodding in approval at some, snickering at others. No one wants to have their music judged by a rock star any more than they'd want Tom Colicchio standing over them as they make omelets on a Sunday morning. Eventually, Auerbach settles on live Allman Brothers and talk turns to a more pressing issue: whether to order mild or medium-hot at our destination, the one-of-a-kind Prince's Hot Chicken in Nashville, Tennessee.
As for how I wound up in a truck with a chef and a musician on the way to my third meal of the night, let me rewind. I'd visited Nashville a few times while growing up in Atlanta. Back then, it meant one thing to me: country music. I liked Nirvana, so I dismissed the place. Then a year or so ago—
boom
—the Southern food revolution hit. Suddenly, New Yorkers were eating grits (and loving it). Critics were talking about biscuits and fried chicken like they were blinis and caviar. Nose-to-tail eating, canning, curing, bourbon—things that have been part of the South's culinary traditions for centuries—were now obsessed over from coast to coast. Being Southern and eating Southern were cool; the restaurants and ingredients down South are better than ever. And nowhere was this more apparent, I'd heard, than in Nashville. So when my friend Dan, who'd recently moved there, invited me down, I was on a plane a week later.
"I gotta be honest," Auerbach says as we slurp tortilla soup at Mas Tacos Por Favor on my first day in town. "I moved here partly because of the food." That's not hard to believe. He's lived in Nashville for a year and already has opinions on everything from where to find the best
pho
to who makes a "proper" cortado. But it's not just food (and drink!) that's making Nashville the South's City of the Moment. IN my week on the ground, I felt the energy of a city in motion. I saw it in the faces of the staff at Imogene + Willie, a shop selling handmade clothes in a former gas station; smelled it in the smoked cacao-nib brittle made by Oliver & Sinclair Chocolate Co.; heard it at Auerbach's recording studio. And yes, I tasted it, in everything from Arnold's Country Kitchen fried chicken livers and collard greens (made with wasabi, by the way) to drinks poured with locally made Corsair Artisan spirits to that tortilla soup.
People like Auerbach and Wilson are driving this movement. Ask ten locals to name their favorite restaurant and seven will answer City House. On any given night, Wilson's place, which is hidden in a residential area, is filled with Nashville's elite: politicians, artists, chefs, and musicians. "If I'm not touring," says Auerbach, "I'm probably there eating the octopus with butter beans, the North Carolina mussels with linguine, and the belly-ham pizza." My meal at City House is a delicious progression of mint-and-citrus-spiked corn salad, cornmeal-crusted North Carolina catfish with fall salsa, and pulled pork served over house-made fettuccine. (Note to chefs: Combine Italian and Southern traditions in one dish and I'm all yours.)
A few minutes away, Wilson's culinary soul mate, Tyler Brown, runs the Capitol Grille (no affiliation with the steak-house chain) in the stately, 100-year-old Hermitage Hotel. Know in Nashville food circles as "TnT", Tandy and Tyler share a passion for Southern kitchen traditions while keeping their food modern and fresh. Brown is also an heirloom-ingredient junkie. He starts most days at the restaurant's 66-acre Glen Leven farm, just five miles from the hotel, picking vegetables for that day's menu. One morning I tag along, harvesting purple okra and sesame seeds. Brown's got beehives for honey, but most impressive his his herd of cattle, raised for the restaurant's exceptional burgers and steaks. The whole operation is proof that "farm to table" is more than a marketing slogan.
Like most great food cities, Nashville nails both the high and the low ends. For lunch one day, Auerbach and I drive a half hour to Martin's Bar-B-Que Joint in Nolensville, where pitmaster and chef Patrick Martin pulls what locals call "redneck spaghetti," the long strands of meat from the belly of a 200-pound pig that's been cooked low and slow for 24 hours. No matter how you order it—on a slider, straight-up purist style, or on a cornbread pancake topped with sweet BBQ sauce and coleslaw (called a "redneck taco" on the menu)—it's barbecue so addictive that states should regulate it.
A few hours later, I'm back downtown for dinner at the Catbird Seat, run by Benjamin Goldberg and chefs Erik Anderson and Josh Habiger. With its 20-seat chefs' counter, set menu, and technique-driven food, the endearingly earnest spot pulls off the kind of fine dining that you'd expect to find in New York or even Copenhagen. If you're lucky you'll be served a crispy piece of chili-dusted chicken skin as an
amuse-bouche
, their take on hot chicken. The food is 180 degrees from Patrick Martin's, but somehow it's part of the same movement—and the same moment.
Back at Prince's, 15 minutes away, Auerbach, Wilson and I are sweating through a crispy bird fried with loads of cayenne, served with pickles and white bread to absorb the lip-tinging grease. Then we make our way to City House for a nightcap at 2:00 a.m. Wilson pours some rare Tennessee whiskey while Auerbach plays DJ. This time, it's the Grateful Dead. My stay in Nashville is coming to an end, but I know I'll be back soon. In my week here I've discovered a group of artisans rooted in Southern traditions, each tackling his or her thing—be it food, fashion, or music—in a fresh, inspiring way. I've seen a place that embodies New South cool, mixing country and city, high and low. And while I'm no rock star, with help from my friend Dan, I've certainly eaten like one.
GET THE RECIPES FROM THIS STORY:
Tortilla Soup
Rosa Mae
Fried Catfish
Southern Mac and Cheese
Read More http://www.bonappetit.com/magazine/2012/02/nashville-with-dan-auerbach#ixzz1juvWFwpG