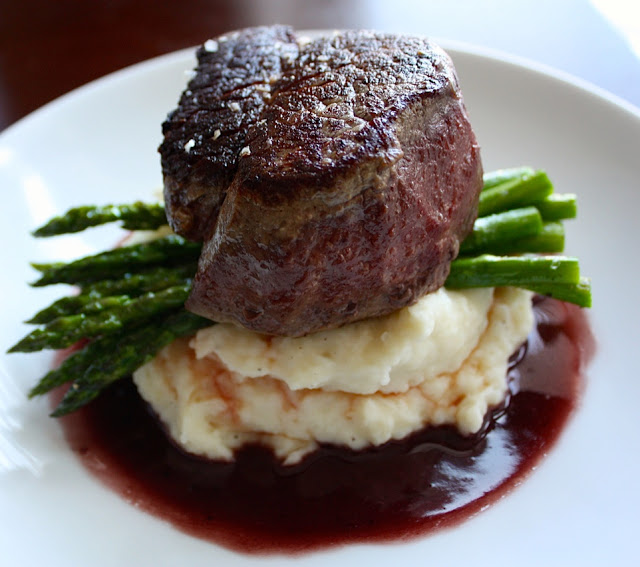 Sometimes, I simply out do myself.
Yes, I realize it's been a few weeks, and my posts have been lacking. So to make up for it, I'm delivering a 'Top Chef' esque recipe and photo to make your mouth water.
Steak. Steak. Steak.
Damn.
This recipe exudes luxury - from the tender filet of beef, to the silky mashed potatoes, to the crunch asparagus, and finally to the rich and creamy red wine sauce.
Forget about having her over - this meal will probably make her stay a while.
Just sayin . . .
MM
Filet Mignon with Red Wine Pan Sauce + Roasted Asparagus + Garlic Mashed Potatoes
2 lbs Yukon Gold Potatoes, peeled and quartered
4 Garlic Cloves, peeled
½ lb Fresh Asparagus, washed and trimmed
4 Tablespoons Extra Virgin Olive Oil, divided
2 8 oz Filet Mignons, at room temperature
Kosher Salt
Fresh Cracked Pepper
1 Tablespoon Shallot, minced
½ Cup Red Wine
½ Cup Beef Stock
8 Tablespoons Unsalted Butter, melted
¼ Cup Heavy Cream, warm
FIRST: Preheat oven to 425 degrees F. Heat a large pot of water over medium high heat. When water comes to a boil, add potatoes and garlic cloves and cook 11-13 minutes, or until fork tender; remove from heat and set aside. Next, lay out asparagus in a single layer on a baking sheet; drizzle with 2 tablespoons of oil, season with salt and pepper, and toss to coat each spear.

SECOND: Heat a cast iron skillet over medium high heat and season filets with salt and pepper. Add remaining oil and sear filets, undisturbed, for 2-3 minutes. Flip filets, and insert into the bottom rack of the oven until internal temperature is 135 degrees F for medium rare/medium, about 5-7 more minutes depending on the cut. Remove filets from oven and tent with foil to keep warm and rest. Meanwhile, place asparagus on the top rack of a 425 degree oven, roast for 8-10 minutes, shaking pan on occasion to ensure asparagus cooks evenly.
THIRD: Place the cast iron skillet used to cook steaks back on stovetop over medium high heat and sauté shallots for 1-2 minutes. Deglaze pan with wine, and reduce mixture by half. Add stock, and once again reduce mixture by half. Remove from heat, add 2 tablespoons of butter, and season the pan sauce to taste with salt and pepper.
LAST: Drain potatoes; using either a potato ricer or masher, mash potatoes and garlic into a mixing bowl. Fold in the remaining butter and cream and season potatoes to taste with kosher salt and fresh cracked pepper. Plate a portion of potatoes on the center of plate, top with asparagus, and finish with the filet. Spoon the red wine pan sauce around the perimeter of the plate. Serve.