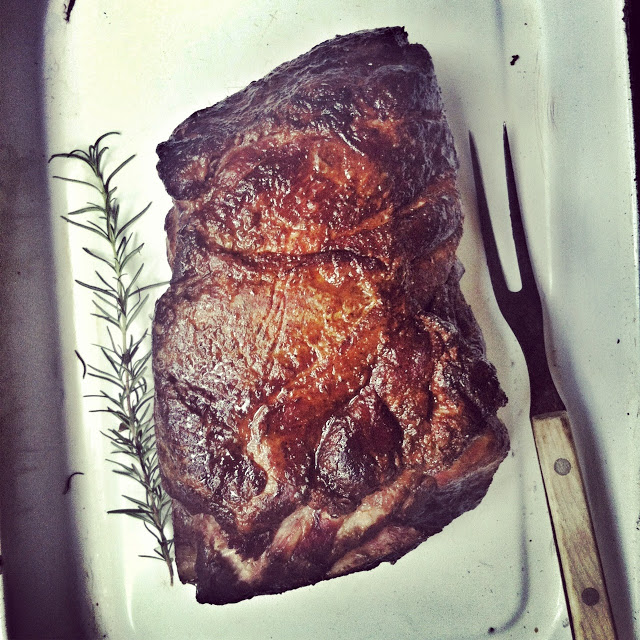 I was fortunate to spend the recent holiday weekend at my lakehouse in GA with family. To my surprise, Dad has become quite the grilling enthusiast with the recent purchase of his Big Green Egg smoker. Seriously, who knew! I think momma is enjoying her 'break' from the kitchen.
For those who've never used a Big Green Egg, or any smoker for that matter - it's definitely worth your while. But - they can be quite expensive.
You know me. I don't require fancy equipment or expensive ingredients to be a part of my culinary routine. I believe everyone should be able to cook good food at a reasonable expense.
So here's my recipe makeover. Don't have a smoker? Use your grill. No grill? Dig a hole in the ground, or use a Clay pot (not kidding). Too lazy? Use your oven.
I really don't care about your source of heat, rather I am concerned with maintaining a constant 225 degrees for 5 - 6 hours. This can be accomplished using minimal amounts of charcoal or gas via indirect cooking - in any device really - or inside an oven, or even in a dutch oven over the stove-top.
See, now that we've got that settled, let's move on to the specifics.
Slow Roasted Pork Shoulder -
this recipe is for the purist. If you want to make a dry rub, or herb rub, simply improvise.
1 4 lb Pork Shoulder (Boston Butt)
Extra Virgin Olive Oil
Salt
Pepper
Prepare your heat source (grill, oven, dutch oven, etc) to cook and maintain a covered temperature of 225 degrees F. Prep the pork shoulder by drizzling with olive oil and seasoning very liberally with salt and pepper. Cook pork shoulder, using covered indirect heat for approximately 5 hours at 225 degrees F - a thermometer stuck into the thickest part (next to bone) should read 165 degrees F. Remove from heat and wrap in foil for 30 minutes. To 'pull' the pork, use two forks in an opposing direction to shred and pull apart the meat. Serve with soft rolls and BBQ sauce.