Editors Note: This is a guest post by Colin.
This whole cooking thing got real, really fast. Three meals, cooked at my leisure with no performance anxiety (it happens to lots of chefs , I hear), and now I am cooking for not just an audience, but a double date audience? On top of that, I gave up home field advantage: I asked to cook the meal at the loft of my good friends to avoid the numerous, numerous shortcomings of my own apartment and cookware. My mind started to churn up excuses to avoid the obligation, rationalizing to myself that if I wasn't having her over to my actual place for dinner, then the meal didn't count, and I was mercifully spared from this meal's impending failure. I started hoping to get stood up. I even started trying to get hung up at work, but alas, nothing could save me from myself, so I grudgingly picked up the poor girl who agreed to be my date, and started the long drumroll to the firing squad. The only difference was that a good final meal might be the pardon I needed to save me from my fate.
Meat/Deli

4 Boneless Skinless Chicken Breasts
1/4 lb Thin Sliced Hard Salami or Sopressata
Fruit/Veg

3 lbs Red New Potatoes
1 Package Fresh Rosemary
1 Head Garlic
1 Lemon
2 Bags Prewashed Spinach Leaves
1 Pint Mixed Berries (Blueberries, Raspberries, Strawberries Blackberries)
Dairy

1 8 oz Extra Sharp White Cheddar Cheese
3 - 4 Small Containers Non-Fat Vanilla
Yogurt
Grocery/Spices

Kosher Salt
Ground/Fresh Black Pepper
Extra Virgin Olive Oil
BearNaked Brand Fruit and Nut Granola
1 Jar Kalamata Olives (Pitted)

Wine/Beer

Red Wine - Pinot Noir / Zinfandel
Anti-Pasti Plate -
no cooking required for this simple appetizer. put this out on a large plate or serving platter while you are cooking to allow your guests to stave off hunger while you finish cooking. could not be easier.
1/4 lb Thin Sliced Hard Salami or Sopressata
1 8 oz Package Extra Sharp White Cheddar Cheese
1 Jar Kalamata Olives (Pitted)

On a serving plate, neatly layer salami slices onto 1/3 of the area of the plate. Slice cheese into thin cuts, and arrange on the other 1/3 of the surface. Finally, drain olives and place on the remaining 1/3 of the surface. Serve with toothpicks, if desired.
Pan Seared Chicken Breasts with Lemon/Rosemary Potatoes and Sauteed Spinach
- it's all about timing on this dish. prep your potatoes and get them in the oven first as they take quite a while. when they have about 10 minutes remaining, start working/cooking your chicken, and as the chicken 'rests', quickly saute your spinach. Fast, easy, and healthy.
Potatoes
3 lbs Red New Potatoes, washed and cut into 1 inch cubes
1/4 Cup Extra Virgin Olive Oil
Kosher Salt
Fresh Cracked Pepper
1 Lemon, juiced
3 - 4 Sprigs Fresh Rosemary
Chicken
4 (6 - 8 oz) Boneless Skinless Chicken Breasts
Extra Virgin Olive Oil
Kosher Salt
Fresh Cracked Pepper
Spinach
2 Tablespoons Extra Virgin Olive Oil
2 Cloves Garlic, finely minced
2 Bags Prewashed Spinach
1) Potatoes -
Preheat oven to 425 Degrees F. Place cubed potatoes into a large glass baking dish or high rimmed baking tray. Drizzle with Olive Oil an season liberally with Kosher Salt and Fresh Cracked Pepper. Next, add the juice of one lemon (no seeds) to the potatoes. Toss the ingredients well to make sure everything is evenly distributed - taste fingers to determine if more salt is needed. Wash hands after tasting. Gently arrange a few of the rosemary sprigs amongst the potatoes and add to the oven, roasting and shaking pan on occasion for 40 - 45 minutes, or until potatoes are browned and fork tender. Turn off heat and keep warm while you finish the rest of the meal. (Discard rosemary sprigs before serving).
2) Chicken -
When ten minutes remain on the potatoes, preheat a large cast iron or heavy bottom skillet over medium heat on the stove top. Drizzle chicken breasts with olive oil and season liberally with kosher salt and fresh cracked pepper. Add chicken breasts to pan, careful not to overcrowd and cook for 4 - 5 minutes - undisturbed (aka do NOT touch, creating a nice browned sear). Flip chicken breasts and cook for another 3 - 4 minutes, or until chicken is firm to the touch. Remove chicken from skillet to a plate and tent with aluminum foil to rest and keep warm.
3) Spinach -
With the potatoes finished and the spinach resting, heat a large skillet over medium high heat on the stove top. Add oil, followed by garlic and saute for 30 - 45 seconds, careful not to brown. Next add spinach, one bag at a time. Continue tossing spinach in the pan, as the heat of the pan will cause the spinach to wilt dramatically. Continue adding spinach and tossing - adding more oil if necessary - until all of the spinach is wilted and cooked through. Remove from heat and plate immediately.
4) Serve -
Plate equal portions of spinach and potatoes on each plate, followed by a chicken breast.
Yogurt
and Fruit Parfait -
a fast and easy dessert that requires no advance prep. if you can't find a premixed assortment of berries at the store, go with a mixture of cut strawberries and blueberries
3 - 4 Small Containers Non-Fat Vanilla
Yogurt

1 Pint Mixed Berries (Blueberries, Raspberries, Strawberries Blackberries) Washed w/ stems removed.
BearNaked Brand Fruit and Nut Granola

In four separate glasses, add about 1/2 - 3/4 cup of
yogurt
to the bottom of each glass. Next, add a generous layer of fruit, followed by a light sprinkle of granola over the top. Serve immediately.
Yeah, it is a long recipe, and it ain't easy. That's why you get the appetizer out there, and some drinks-in my case, wine. Wine make everything better, funnier, and more forgivable. The other three people seemed to enjoy it for their own reasons too. As for the appetizer, I chose a finely sliced spicy sopressata and cheese, but nixed the olives. I can't stand olives. In their place I picked up some pre-marinated bell peppers, and of course, plated for appearances.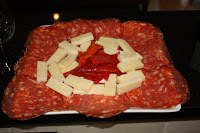 Appetizer done, and the date hasn't left yet. My glass of wine seems to be draining faster than the rest, but then again, I'm much more busy frantic than they are. At this point, however, I'm glad to have forsaken the home field--this kitchen is nice, open, and well stocked with all the cookware I could ask for. Not to mention that the better half of this double date is doing great keeping up a song and dance to distract my date from the fact I don't know what the hell I'm doing.
What I'm trying to doing next is potatoes. I've pre-heated the oven in order to keep this party on schedule, and just need to slice and dice some of these little red bastards. This is where an island bar kitchen top is great--I can slice while staying engaged in the conversation. Things here go swimmingly; no lost finger, no skimping on the salt, and some fun preparation and plating with the olive oil and rosemary sprigs, and my glass of wine is empty again. Time to get these boys in the oven.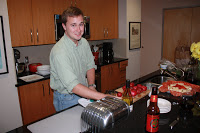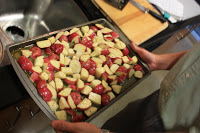 WARNING: Do not open the over door with your face right at the door. Ovens, when turned on, generate heat. This heat will escape from the oven upon opening the door, and you will want to keep you face out of that escape route. Playing it cool (pun?) when scalding air hits your face is not an easy task. Trust me, I know from experience.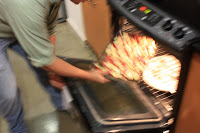 I spin from the heat, stick in the potatoes, and laugh it off. The girls have found common ground on running and dogs, and I am able to prep the rest of the meal while the potatoes cook. The chicken is easy, and takes no time. I'm saved from disaster on the garlic green beans by my counterpart, who teaches me the difference between saute'd garlic and browned garlic. I cannot tell you how short that turnaround time is once you put the garlic on--literally turn around and grab your spinach, make one quick whisk of the minced clove, and throw the spinach on there. One second longer than it takes to read that explanation, and you're looking at brown garlic--just what every date wants and needs.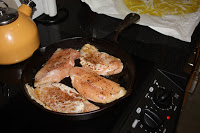 From here on out, things go smoothly, and the experiment of this whole night falls away into a genuinely good time. The ridiculousness of my photographic documentation of the night starts to amp up, and after I call myself out on the preposterousness of this being the first date, and finally, the truth behind Have Her Over For Dinner begins to show through. Dinner and a movie limits dining to sterilized conversations only, and movies to isolated viewing. Preparing food with, and for, another creates a shared experience and conversation. It allows for the false front of a first date to fall away in a fun, disarming way. And it centers the date on your date, and vice versa. The conversation both during and recapping the date can't center on the service, the meal, or the atmosphere. Better yet, the conversation actually will focus on the service, the meal, or the atmosphere, except that that focus is squarely on you.
That tangent aside, if the meal sucks, you don't want that kind of attention. Luckily, this meal is at most a test of heating up salted, olive oil drizzled items, and mine turned out well enough.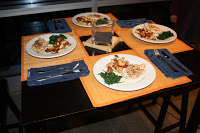 The best, however, was saved for last. Simple, easy, and as pleasant to look at as eat, the parfait was too good to be true. The "recipe" was as simple as can be, the plating looks like a 5 Star dessert, and the dessert itself is light enough to where even the most "I just want a salad" date will allow herself to splurge.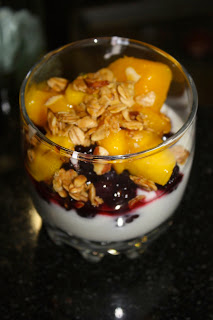 All in all, the whole thing was a fun time. So far as I know, no one was struck down with food poisoning, I didn't have my date go middle school on me and stop returning me phone calls and texts, and most importantly, I had fun. For a lot of anxiety leading up to a multi-course meal, with multiple people, things turned out great. Like every other meal I managed to eek out over this challenge, the initial reaction seemed out of my range, but by the end of it all, I was full, satisfied, and not wanting to do the dishes. And since I did the cooking, I didn't have to--and that, my friends, is what cooking is really all about.