A big thanks to The Tennessean for running this feature - a great piece, and some solid recipes if you are looking for a good family dinner. Text/Recipes/Photos below.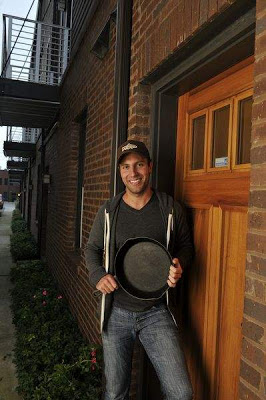 Matt Moore was having a busy night.
From the window of his Germantown condo he could see the lights of downtown, which had already started to shine, meaning he had to hustle if he was going to meet a friend for a concert at the Ryman.
But first, belying the young bachelor stereotype of pizza boxes and an empty fridge, the 28-year-old songwriter poured himself a glass of red wine and casually whipped up a plate of balsamic pork over black-eyed pea risotto with a side of sautéed spinach.
"When I went to school at (the University of) Georgia, I realized so many people my age had no idea how to cook," he said.
Moore learned to cook from his mother. Growing up in Lilburn, Ga., he'd come home from high school football practice and join her in the kitchen to help make the family meals. "It was kind of my chance to catch up at the end of the day with her," he said.
Earlier this year, Moore published a cookbook,
Have Her Over for Dinner: A Gentleman's Guide to Classic, Simple Meals
. A second book is already in the works. And for our Nashville Cooks series, he invited us over to learn how to put together a simple, healthful, inexpensive meal from scratch.
Testing on friends
While stirring a pan of risotto and heating up a grill pan, Moore recalled growing up in a food-centric family. He learned to make classic Southern food, but his mother, who is of Lebanese descent, also taught him to focus on healthy, local, seasonal food long before it was trendy.
"I wasn't eating tomatoes in the dead of winter," he said.
Holiday meals at his house included the traditional sweet potato dishes but also included homemade hummus and tabbouleh.
After high school, Moore took his skills on the road, at college and with a band.
"It was the first time I was able to take mom's cooking and put it to the test," he said.
At Georgia, Moore became the ringleader of a series of food-themed parties. After playing a show in St. Simons Island or Savannah, for example, he would pick up 20 pounds of fresh shrimp to take back to Athens for Low Country boils or fish fries. "We would invite 100 of our closest friends," he said.
Start to finish
Five years ago, Moore moved to Nashville to pursue music and songwriting. He still enjoys entertaining but on a smaller scale — 10 friends, as opposed to 100.
Beyond the parties, he's often the go-to guy for cooking advice among his male friends. "For as much time as I spend helping friends out and writing e-mails," he remembered telling a friend, "I should just write a book."
Moore created a publishing company and took a year to write his first cookbook, which came out in March. His second book, to be published next year, is the logical follow-up to
Have Her Over for Dinner
— it's titled
And for Breakfast
.
Of course, one woman in particular — Matt's mother — couldn't be prouder.
"She's a little bit nervous about my angle, in mom terms," Moore said.
But the skills she taught him clearly keep him confident and relaxed, even cooking a quick meal in a pinch.
"For me, it's the entertaining side — to be able to share a skill with friends," he said. "I like having something from start to finish. That satisfaction of completing something."
And with that, dinner was served.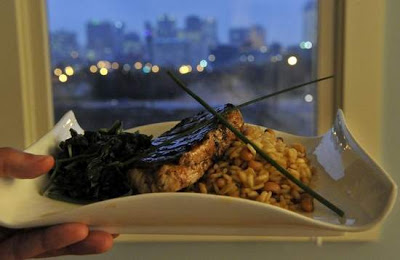 SAUTÉED SPINACH
1 tablespoon extra virgin olive oil
1 clove garlic, minced
2 (6-ounce) bags fresh baby spinach
Kosher saltJuice of 1/2 lemon
1. Preheat a skillet over medium high heat. Add oil. Add garlic and sauté for 30 seconds to 1 minute, careful not to brown.
2. Add spinach and sauté until reduced and tender, 3-4 minutes. Season with kosher salt and finish with a squeeze of lemon. Serve.
BLACK-EYED PEA RISOTTO
2 tablespoons extra virgin olive oil
1 yellow onion, finely diced
2 cloves garlic, minced
Kosher salt
Freshly cracked pepper
2 cups Arborio rice
6-8 cups chicken stock
1 cup black-eyed peas, soaked overnight
1. Preheat a large skillet tomedium high. Add olive oil. Sauté onions until tender and translucent, about 6 to 8 minutes. Add garlic and season with kosher salt and fresh cracked pepper.
2. Add rice to pan and stir to coat the grains in oil, toasting the rice for 2-3 minutes, or until the grains begin to become opaque.
3. Add 1 cup of broth to the toasted rice and bring to a simmer. Reduce heat to medium. Stir regularly, adding 1 cup of broth at a time as the rice begins to absorb all of the liquid. (Note: All of the broth may not be used.)
4. Continue in this manner until rice is cooked al dente and the mixture is slightly firm, yet still creamy (30-35 minutes). To finish, add the black-eyed peas and heat through.
GRILLED PORK CHOPS
4 (6-ounce) boneless pork chops
2 tablespoons extra virgin olive oil
1 tablespoon balsamic vinegar
Kosher salt
Freshly cracked pepper
1. Preheat grill to medium high and remove chops from fridge to bring up to room temperature.
2. Make a quick marinade by whisking together oil and vinegar. Pour over chops. Season chops liberally on both sides with kosher salt and freshly cracked pepper.
3. Grill chops, turning once, for 4-5 minutes each side, or until medium. Remove from grill and set aside to rest 5 minutes before serving.