Be sure to tune in Saturday from 9:00 - 10:00 a.m. EST for my segment on cooking a romantic Valentine's Day meal. Also, be sure to check out The Wall Street Journal. I was recently interviewed on the book and other happenings. Of course, I've supplied another signature recipe. The following meal below will be featured on Fox & Friends.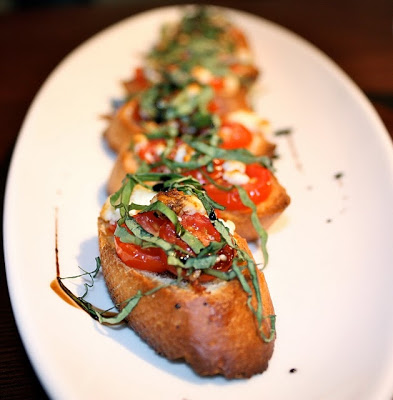 Sweet Basil, Tomato, and Feta Bruschetta
½ Loaf French Bread, cut into ½ inch slices
¼ Cup Extra Virgin Olive Oil, reserves for garnish
Fresh Cracked Pepper
Cherry Tomatoes, thinly sliced
4 oz Crumbled Feta Cheese
6-8 Fresh Basil Leaves
Preheat oven to 400 degrees F.
Lay out bread slices on a baking sheet and brush generously with olive oil and season with fresh cracked pepper.
Place pan in the oven and bake 6-8 minutes, or until edges are golden brown.
Immediately top with sliced tomatoes and crumbled feta and return to oven for 2-3 minutes.
Meanwhile carefully stack and roll the basil leaves together and thinly slice, or chiffonade.
Remove bruschetta from oven and garnish with fresh basil and a light drizzle of remaining olive oil over the top of each slice.
Serve.


Sautéed Shrimp, Mushrooms, and Peas over Penne w/ Parmesan Cream Sauce
8 oz Barilla Plus Penne Pasta
2 Tablespoons Unsalted Butter
2 Tablespoons Extra Virgin Olive Oil
8 oz Sliced Baby Bella Mushrooms
Kosher Salt
Fresh Cracked Pepper
1 Cup Frozen Green Peas
1 lb Medium (21 - 30 ct) Shrimp, peeled and deveined
1 Cup Dry White Wine
8 oz Heavy Cream
1/4 Cup Grated Parmigiano Reggiano Cheese, plus more for garnish/taste
Bring a large pot of salted water to a boil over high heat. Add penne pasta and cook just under al dente, about 10 minutes, drain and set aside. Meanwhile, in a large skillet over medium high heat, melt the butter into the olive oil. Add mushrooms, season with salt and pepper to taste, and sauté until browned and tender, about 3 - 4 minutes. Next add peas and shrimp and cook for 2 - 3 minutes, or until shrimp just begin to firm and turn pink. Remove entire contents of the pan to a plate to keep warm; return the pan to the heat. Next, add the wine to deglaze the hot pan, using a wooden spoon to scrape up any of the browned bits from the bottom of the pan. Allow the wine to reduce by half, or 2 - 3 minutes. Reduce heat to medium low, add cream, and allow to simmer and reduce for 4 - 5 minutes; taste, adjust seasoning, and keep a close eye on the cream to prevent from boiling. When the cream has reduced by half, add the mushroom/pea/shrimp mixture into the cream to finish cooking. Toss in cooked pasta and cheese, and mix thoroughly until well combined. Remove from heat and serve with grated Parmesan to taste.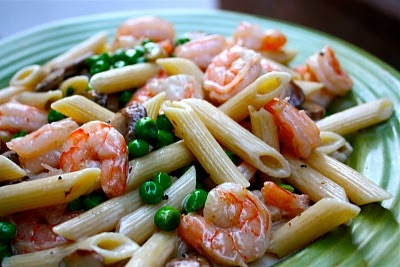 Chocolate Covered Strawberries
2 Tablespoons Unsalted Butter
½ Cup Whole Milk
10 oz Semisweet Chocolate, chopped
1 lb Fresh Strawberries, washed and dried thoroughly

Fill a two quart pot with 2-3 inches of water and bring to a simmer over medium high heat.
Place butter, milk, and chocolate into a separate heatproof medium bowl and carefully rest it inside of the pot with the simmering water.
Remove pot from heat and allow chocolate to slowly melt in the bowl, stirring on occasion.
Holding the stem, dip each strawberry into the melted chocolate, ensuring an even coat, and place on a baking sheet lined with wax or parchment paper.
Continue until all strawberries have been dipped, or no chocolate remains.
Set the strawberries aside for at least 30 minutes, to allow the chocolate to set; or keep in the fridge until ready to serve.