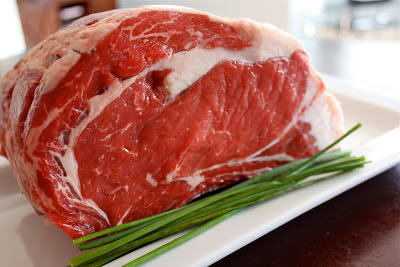 Nothing like a huge chunk of meat to start out your weekend! Now that Valentine's Day is out of the way, I figured I'd share a recipe for the guys. Of course, I love a girl who can enjoy a steak and a glass of wine, so ladies . . . indulge.
Think of this meal as prime rib. The best part? You get to be "that guy" at the carving station, slicing off perfectly medium rare pieces of meat for your hungry guests. I enjoy making this when I'm entertaining about 6 - 8 of my closest friends.
Keep it simple. Allow the roast to do its work in the oven while you work on making the potatoes. As the roast is resting, you can quickly take care of the spinach.
Off to LA. Have a great weekend everybody - and happy President's Day - pray for our leaders and those that serve.
MM
Standing Rib Roast
1 4 -5 lb Rib Roast
¼ Cup Extra Virgin Olive Oil
Kosher Salt
Fresh Cracked Pepper
10 Cloves Garlic
Preheat oven to 375 degrees F.
Meanwhile, place roast - rib side down - into a heavy bottomed skillet and coat in olive oil.
Season entire roast very liberally with kosher salt and fresh cracked pepper and arrange garlic cloves in the bottom of the pan.
Place roast into oven and cook for 1 - ½ hours (about 15 minutes per pound), or until internal temperature reaches 125 degrees for medium rare.
Remove from heat and rest for 20 minutes before serving.
Garlic Mashed Potatoes
5 lbs Yukon Gold Potatoes
2 Sticks Unsalted Butter
1 Cup Heavy Cream
Roasted Garlic Cloves (from Rib Roast), skin removed
Kosher Salt
Fresh Cracked Pepper
2 Tablespoons Chives, finely chopped
Bring a large pot of salted water to a boil over high heat; add potatoes and cook until just fork tender, 10 - 12 minutes.
Remove and strain potatoes, allowing all of the water to evaporate.
Reduce heat to low, and place the empty pot back on the stove and melt the butter into the cream.
Add potatoes, roasted garlic, and season with kosher salt and fresh cracked pepper to taste.
Using a masher or ricer, mash potatoes until desired consistency is reached, adding more cream for a looser consistency.
Garnish with chives and serve immediately.
Sautéed Spinach
¼ Cup Extra Virgin Olive Oil
¼ Teaspoon Red Pepper Flakes
3 lbs Fresh Baby Spinach
Kosher Salt
½ Lemon
Preheat a large skillet over medium high heat, add oil.
Add red pepper flakes and sauté for 30 seconds - 1 minute, careful not to brown.
Add spinach and sauté until reduced and tender, 4 - 5 minutes.
Season with kosher salt (to taste), and finish with fresh squeezed lemon juice.
Serve.