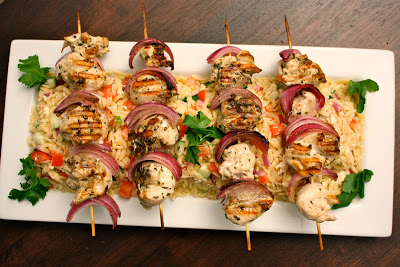 A very productive weekend here. One might even call it a Spring cleaning of sorts. Clean house, clean car, clean laundry, and most importantly - clean kitchen. After so many months of travel, it's easy to neglect all of the things 'round the house that need to be maintained. Well, it's all shining, fresh, and running like a well oiled machine around here.
Feels good.
Staring down a few weeks of travel catching up with family and friends so I may not be quite as busy here. Hopefully you've noticed that I've picked things up the past few weeks. I honestly wish that many of you will give the diet and lifestyle plan a try. It seems simple, but lots of thought and hard work have gone into that outline. Of course, I've got a book full of recipes and workouts to add should we get interest out of a publisher - but for now - let me know your thoughts, criticisms, and most importantly your success stories.
Along those same lines, I put together one of my favorite meals for tonight's Sunday dinner. After two days of cold, grey weather here in Nashville, the sunshine and bluebird skies finally broke through. I wanted a light, summer-esque meal to pair with the glorious weather we enjoyed today. So, enjoy!
Keep peaceful!
MM
Grilled Chicken Kebabs
1 Lb Chicken Tenderloins
1 Red Onion, roughly chopped
1/4 Cup Extra Virgin Olive Oil
2 Tablespoons Red Wine Vinegar
1 Tablespoon Oregano
1 Teaspoon Salt
1 Teaspoon Ground Pepper
Combine all ingredients into a large bowl and allow to marinate for 30 minutes. Meanwhile, soak bamboo skewers in water. Preheat grill to medium high. Skewer chicken and onions, careful not to over crowd and place on grill. Grill 2-3 minutes on each side, or until chicken is firm to the touch and cooked through. Serve.
Orzo Pasta Salad
1 Cup Orzo Pasta
1/4 Red Onion, finely diced
1/2 Cucumber, finely diced
1 Tomato, finely diced
1/4 Cup Feta Cheese, crumbled
1/4 Cup Extra Virgin Olive Oil
Kosher Salt
Fresh Cracked Pepper
Over high heat, bring water to a boil and cook orzo pasta 6 - 7 minutes, or al dente. Drain, rinse, and cook completely. Combine the remaining ingredients, seasoning to taste with salt and pepper. Cover and place in fridge until chilled. Serve.