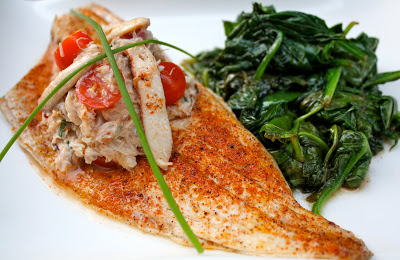 Nothing beats Southern hospitality.
Aside from a phone call from a beautiful woman, there's nothing I love more than hearing the following statement when answering the phone.
"Hey man, I ___________ (caught, killed, grew) some extra ___________ (fish, wild game, vegetables), would you like some some?
Yes, yes! Done and done.
My call came Sunday when friend Henry and Henry Sr. arrived with about 15 lbs of fresh Speckled Trout caught on a trip down in Apalachicola, FL. Of course, in true Southern fashion, the first thing we did was have ourselves a fish fry on Sunday. Sorry you weren't invited.
Nevertheless, I saved a few filets for a 'healthier' Weeknight supper.
Piece of advice. If the phone rings - Answer it!
Cajun Broiled Speckled Trout with Crab Salad and Balsamic Braised Spinach
Crab Salad
1 Cup Lump Crab Meat
1/4 Cup Sliced Grape Tomatoes
1 Tablespoon Red Onion, finely diced
1 Tablespoon Chives, finely diced
1 Tablespoon Mayonnaise
1 Teaspoon Creole Mustard
1 Lemon, juiced
Combine ingredients into a mixing bowl and mix until combined, careful not to break apart crab meat. Cover and refrigerate until ready for use.
Trout
2 6 - 8 oz filets Speckled Trout (Flounder, Rainbow Trout, Tilapia)
Extra Virgin Olive Oil
1 Lemon
Cajun Seasoning
Heat broiler to high. In a non-stick baking sheet, coat filets in olive oil and season liberally with cajun seasoning. Sprinkle with lemon juice. Broil for 5 - 7 minutes, or until fish is firm and flakes.
Spinach
Extra Virgin Olive Oil
4 Handfuls Fresh Baby Spinach
Balsamic Vinegar
In a skillet over medium heat, add a few tablespoons of oil. Add spinach and saute until just wilted. Lightly splash with vinegar, remove from heat and serve.
To Serve:
Plate fish and spinach side by side. Top filet with crab salad and garnish with chives.