Check out the following article from this week's Chicago Tribune.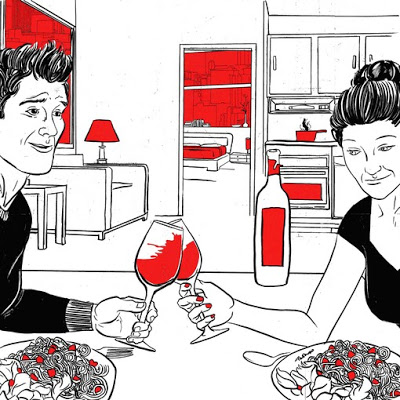 Romance is served
How to generate sizzle — not fizzle — when you invite a date to dinner
May 10, 2011
|
By Alexia Elejalde-Ruiz, Tribune Newspapers
He's browsing your bookshelves. She's meeting your dog. You're sipping wine ever-so-close to the bedroom.
Having a date over to your house for dinner can be a recipe for romance — or disaster. But even disaster can be telling.
So it was when Christian Anderson invited a woman over for chicken fajitas, and overestimated how much water he needed to cook the rice, ending up with a mushy mess.
Until then, the pair had been dating casually. But her forgiving reaction to the ruined rice helped Anderson see potential for much more.
"Having that experience reminded me of watching my parents in the kitchen," said Anderson, a dating coach in Los Angeles. "I realized we really gel well, and it was exciting."
Even if the sizzle stays confined to the kitchen, a homebound dinner date can raise the heat of a courtship.
Men flex their provider muscle. Women show off their nurturing side. Teamwork is on full display — as is your home, in its freshly cleaned and uncluttered glory.
Don't cook? It doesn't matter. Whether you steam lobster or grill burgers, it's the gesture that counts.
Here's a guide to hosting a dinner date at your home, from making the date to menu suggestions.
Is it the right time?
While there are no rules, generally it's best to invite someone over to your house for dinner when there's already a semblance of a relationship, said April Beyer, founder of personal matchmaking and relationship consulting firm Beyer and Associates.
Too early on, the level of intimacy your home provides can be awkward, and the combination of good food, wine and the proximity to the bedroom could expedite a sexual relationship you're not ready for.
For men, Beyer suggests waiting until at least Date No. 4 to ask a woman over for dinner, so that she doesn't think you're creepy and because women enjoy being taken out for initial dates.
For women, it's important to ask yourself why you want to invite the guy over, Beyer said. A lot of women early on in the courtship will rush to invite a man over for a home-cooked meal as a way of seeing him again, which is a mistake if they're acting out of fear that he's not interested. (Chances are, if you haven't heard from him in a while, he's not.) But if the relationship is advancing naturally, go for it.
Setting the ambience
You want your home to look clean and uncluttered (don't forget the bathroom!), and for roommates to be absent, but aside from that don't go overboard in setting a romantic mood.
"It's all about being cool in your home — you want them to feel invited, relaxed, comfortable," said Matt Moore, a Nashville, Tenn.-based musician and author of "Have Her Over for Dinner" (Last Resort Press, $25); he also has a website haveheroverfordinner.com. "If you're wearing a full suit with a dozen red roses and rose petals everywhere, that's too much."
Do invest in a clean tablecloth and white plates, Moore said. Simple fresh flowers and candles — small votives at the center of the table rather than a long taper, so you don't have to crane your heads to see each other — are also nice touches, but keep the table relatively sparse.
Play music you know and enjoy, because that music can be a handy conversation topic if you stumble upon an awkward moment of silence, Moore said.
What to ask of your date
Moore says men shouldn't ask their date to bring anything. Cathy Erway, author of "The Art of Eating In" (Gotham, $24) and blogger of noteatingoutinny.com, says to ask your guest to bring something to drink, usually a bottle of wine.
Unless you're dating a foodie or master cook, don't ask your guest to bring a dish.
To get your date involved in the process, have him open a can, have her uncork the wine. But you should shoulder most of the work. Your date should feel like a guest.
Handling a kitchen crisis
Chicken burned? Pasta on the floor? It's not a crisis, but an opportunity to laugh and observe how you and your date handle curveballs together.
"It provides a fantastic amount of team play," Anderson said. "It's interesting to see how a dating couple deals with error."
Keep your pantry stocked with an extra box of dry pasta and a bottle of pasta sauce so you can whip up an easy plan B if plan A goes sour, Erway says.
And have the phone number of your favorite Italian restaurant handy so you can order in, Moore said — and crack open a few bottles of wine to tide you over.
Planning the menu
It's nice to keep the menu a surprise, but do ask your date if any foods are off-limits, said Matt Moore. Note what your date orders at restaurants to get a sense of what he or she likes.
If you don't know your date's tastes, avoid foods that are polarizing, such as beets, olives or anchovies, which people either love or hate, said Cathy Erway. Serve appetizers, main dish and salad, plus dessert. To help you brainstorm, peruse the menus of favorite restaurants, Moore said. If your cooking skills are lacking, go with what you know.
Here are some menu suggestions for the novice and more experienced chef.
Appetizers
Novice: Cheese and charcuterie, or hummus and fresh veggies, tastefully arranged on a platter, Moore said.
Experienced (but still easy): Erway suggests crostini, sliced French bread toasted until crisp. Add choice of toppings, such as goat cheese and arugula.
Main dish
Novice: You can't go wrong with pasta, especially when you use good quality pasta and bottled sauce. Moore suggests enhancing those basics with additional fresh ingredients: penne in vodka sauce (both store-bought) and add Italian sausage, mushrooms and spinach.
Experienced: Pair fresh fish with a comfort food, such as pasta or risotto, Moore said. One of his go-to recipes is a shrimp and sea scallop scampi (a sauce of olive oil, white wine, butter, lemon and garlic) over penne pasta.
Communal cooking: Cooking can be a fun bonding activity, so Erway suggests making pizza, which is easy and allows people to choose their own toppings. Make handmade dough ahead of time so it's ready for you both to roll out when the time comes (read the recipe to accommodate resting and/or rising times) or buy a ready-made crust. Have an assortment of toppings ready, or enlist your date to help chop.
Dessert
Novice: Serve grilled fruits (like peaches) with ice cream, or a fruit parfait with yogurt and granola, Moore said.
Experienced: Break out the ramekins and make individual chocolate souffles or apple crisp, Erway suggests.
aelejalderuiz@tribune.com
Some advice when the chef is your date
Don't arrive empty-handed, April Beyer said. Bring a bottle of wine (ask if red or white is preferable), the host's favorite dessert, flowers or a coffee-table book.
Offer to wash the dishes, or at least to help. Not only is it polite, Moore says a guest who doesn't offer is a red flag.
Be respectful of your host's personal belongings, Cathy Erway said. It's fine to browse bookshelves and ask about music and photos, but avoid uncomfortably nosy territory.
Be appreciative and enjoy what's offered to you.
— A.E.R.