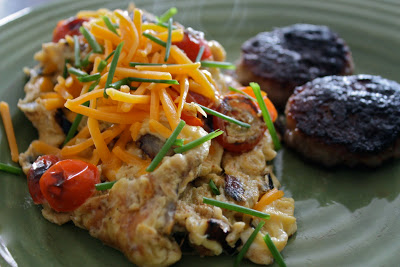 I get it - Isn't this blog supposed to be about dinner? What's with all the breakfast stuff? In due time, you shall see. Besides, a tree fell beside my car this morning and I can't go anywhere. What else to do besides make breakfast for . . . 2.
The truth of the matter is this meal is virtually carb free, assuming you omit the onions and tomatoes, but I like to add them in for color and flavor.
As discussed in the past, starting your morning off with a solid dose (overload) of protein is the best way to keep you full throughout the day. It also doesn't spike your blood sugar like say cereal, bagels, or pastries.
Just keep in mind that meals such as these typically have high fat content. You can cut back by using turkey sausage, egg whites, or even reduced fat cheese.
Seeing as though I ran 20 miles last night through the TN foothills, I'm okay with a few extra grams of fat.
That's all for now. Enjoy!
Low Carb Breakfast (Serves 2)
4 Breakfast Sausage Patties
2 Tablespoons Extra Virgin Olive Oil
2 Tablespoons Red Onion, diced
8 Cherry Tomatoes, diced
6 Eggs, beaten
Cajun Seasoning
Cheddar Cheese, grated
Chives, sliced
In a cast iron skillet over medium heat, brown sausage for 5 minutes on each side, or until heated through; keep warm. Next preheat a non stick skillet over medium high heat. Add oil, followed by the onions and saute until tender and caramelized, about 6 - 8 minutes. Add tomatoes and cook until the skins begin to brown. Next, add eggs and season lightly with cajun seasoning. Allow the eggs to set in the pan, then gently scramble using a wooden spoon - do not over scramble. Remove eggs from heat and plate. Top with grated cheddar cheese and chives. Serve alongside sausage patties. Enjoy.