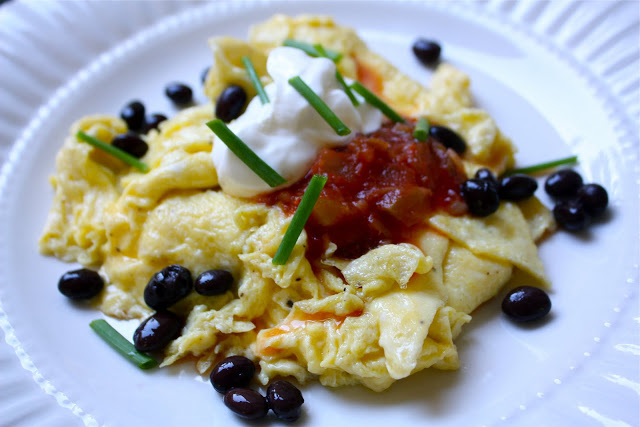 Today, I'm not following protocol. After all, it's Friday and I'm already posting my typical Saturday breakfast special. Sorry to push the weekend on you so fast.
In any event, my mind is already on the weekend. I will not be in the kitchen, I will not be working, and I will not have my phone.
What I will be doing is enjoying time in the great outdoors! 25 miles canoeing/fishing on the Duck River. Camping, cooking out, drinking cold beer, and trading stories with friends. Count me in.
I plan to bring along my cast iron skillets for a shore-lunch/dinner - just hoping I've got some freshly caught fish to pan fry!
In the meantime, here's today's breakfast. I highly suggest you give this flavorful gem a try. It was outstanding, quick, and easy. (Serves 2) You know, for the girl who stayed over last night!
Southwestern Style Eggs with Black Beans

1 Tablespoon Unsalted Butter
6 Large Eggs
¼ Teaspoon Cumin Powder
½ Teaspoon Chili Powder
Kosher Salt
Fresh Cracked Pepper
¼ Cup Canned Black Beans, drained at room temperature
1 Tablespoon Salsa
1 Tablespoon Sour Cream
1 Tablespoon Green Onion Tops, thinly sliced
Hot Sauce, if desired

Preheat a 12 inch non-stick pan over medium high heat; add butter.

Meanwhile, crack eggs into a bowl and vigorously whisk until combined and frothy; season with cumin powder, chili powder, salt, and pepper.

When butter begins to foam, add eggs to pan, waiting to stir until eggs have set; the runny portion should remain on top of the cooked portion.

Quickly use a wooden spoon to scramble and lift off the cooked portions while allowing the uncooked eggs to reach the heat.

When there is no longer any runny portion that remains, remove from heat.

Divide the eggs amongst two plates and top with equal portions of black beans, salsa, sour cream, and sliced green onions.

Serve.