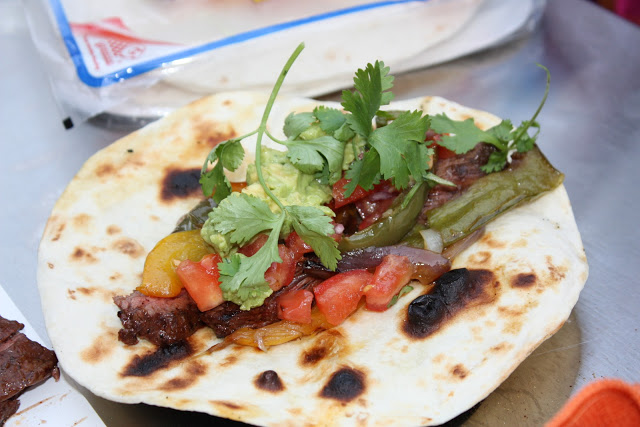 What up? It's been a few busy weeks around here. Working on some new ventures, writing new recipes, getting ready for upcoming events, and always trying to enjoy some cooler temperatures down South. I'm excited that my return trip to Prince Edward Island, Canada is almost just a week away! It's going to be a great time at the Fall Flavours festival. For those that can't make it - I wanted to provide my recipe for skirt steak fajitas, which I'll be demo'ing a few times throughout the day on Saturday, Sept 24th in downtown Charlottetown. These make for great game-day fare for entertaining your guests over football season. Enjoy!
MM
Skirt Steak Fajitas - Serves 4
Skirt Steak/Marinade
1/4 Cup Extra Virgin Olive Oil
2 Limes, Juiced
4 Cloves Garlic, finely minced
2 lbs Skirt Steak
Kosher Salt
Fresh Cracked Pepper
1 Tablespoon Chili Powder
1 Teaspoon Cumin Powder
Onions/Peppers/Tortilla's
1/4 Cup Extra Virgin Olive Oil
1 Large Red Onion, sliced into thin strips
1 Large Green Bell Pepper, sliced into thin strips
1 Large Yellow Bell Pepper, sliced into thin strips
Kosher Salt
Fresh Cracked Pepper
8 - 10 Large Flour Tortillas
Toppings/Garnish
Pico de Gallo/Salsa
Sour Cream
Guacamole
Cilantro
First:
At least 30 minutes prior to grilling, whisk together the first three ingredients into a mixing bowl, set aside. Next, season the steaks liberally on both sides with the remaining ingredients. Add the seasoned steaks into a large plastic bag and cover with the wet marinade. Marinate for at least 30 minutes at room temperature, or overnight in the refrigerator.
Next:
Prepare grill. Preheat half of the grill to high heat, with the other half devoted to low heat. If using coals, pile coals on one side to create a direct and indirect heat surface. Place a small cast iron skillet over direct heat; add 1/4 cup extra virgin olive oil. Add onions and peppers to the skillet and season with kosher salt and fresh cracked pepper. Sauté the mixture until ingredients are slightly charred and just tender, 3 - 4 minutes. Move skillet to indirect heat and sauté until tender and caramelized, about 20 minutes. As onions and peppers are finishing, remove skirt steaks from bag, shaking off excess marinade. Grill steaks over direct heat for 2 minutes. Flip steaks and grill for another 1 - 2 minutes for medium/medium rare depending on the size and thickness. Remove steaks from grill, tent with foil, and rest for 3 - 4 minutes.
Last:
Grill tortillas over direct heat until warmed and slightly charred, about 30 seconds to 1 minute, keep warm. Thinly slice skirt steak across the grain and place a generous portion onto a warmed tortilla. Next, top with onions and peppers. Finally, finish with any of the desired toppings and serve immediately.