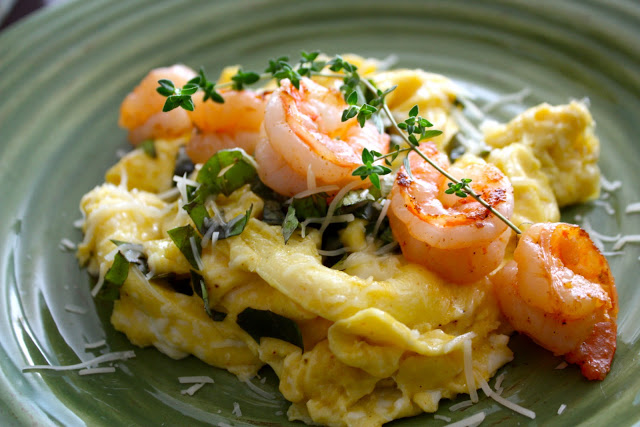 Today UGA plays Vandy in Nashville.
I woke up at 9 a.m., knocked out a 10 mi run on the river, and now I'm sitting here writing to you before I take off for a day of tailgating and drinking beer. It's sunny, cool, the leaves are changing . . . and I'm in a great mood - life is good.
Of course, life is even better when you start your day off with a breakfast like this.
Not too much writing today for me - but I will say that I've got some new projects in the works that I'm super excited about. I've been keeping my nose to the grindstone as of late, well - sorta . . . but today I'm gonna go cheer on my Dawgs, drink beer, and dance with women.
All the best,
MM
Parmesan Basil Scramble + Cajun Shrimp
1 Tablespoon Extra Virgin Olive Oil
1/2 lb Large Shrimp, peeled and deveined
1 Teaspoon Cajun Seasoning
4 Eggs, beaten
1 Tablespoon Fresh Basil, chopped
1 Tablespoon Parmigiano Reggianno Cheese, grated
Add oil to a non-stick skillet over medium high heat. Add shrimp, season with Cajun seasoning, and saute until pink and firm, 2 - 3 minutes. Remove from pan and set aside on a plate; keep warm. Add eggs, waiting for one minute to allow them to set in the pan. Using a wooden spoon, carefully lift the cooked portions off the pan, tilting the pan to allow the runny portion to reach the heat. Scramble for another 1 - 2 minutes, or until eggs are still moist and firm. As you finish, add chopped basil and remove from heat. Plate eggs, top with cheese, and top with a generous serving of shrimp. Serve.