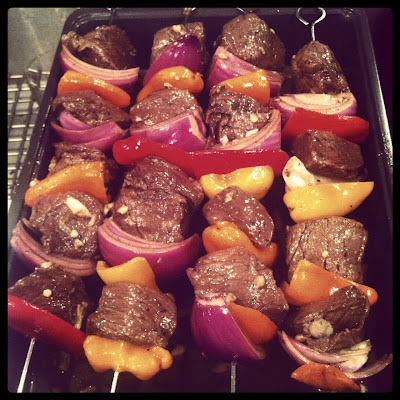 Kebabs - ready for the grill!
I've always been a fan of summertime grilling, especially when skewering up chunks of meat and vegetables and placing them over an open flame. For me, there's nothing better than a summer evening spent feasting on roasted meat and charred vegetables.
I had that craving yesterday - coming off 80 degree weather and blue skies. I went to the store and picked up some top sirloin filets, onion, sweet peppers, and all of the other necessary ingredients to pull off a tried and true family recipe.
My grandmother passed this recipe along to my mom, and though it's seen some variations through the years, every time I make up this marinade it makes me think of being in her old house. It's funny how smells and tastes can transport us back to another place far back in our memory. Fortunately, they are always good memories for me.
In Lebanese tradition, I like using plenty of fresh garlic, allspice, lemon juice, mint, and even a dash of cinnamon to my steak kebab. The flavors are bold, timeless, and delicious.
As summer approaches, give this a try the next time you are considering cooking hamburgers or hotdogs. Trust me - your guests (and you) will be happy.
Lebanese Style Beef Kebabs
(Prep 15 minutes, Marinate 3 - 4 hours, Cook 15 minutes, Serves 4)
1/2 Cup Extra Virgin Olive Oil
1/4 Cup Balsamic Vinegar
2 Tablespoons Red Wine Vinegar
1 Lemon, juiced
10 Garlic Cloves, minced
2 Tablespoons Fresh Mint, chopped
2 lbs Top Sirloin Filets, cut into chunks
1 Large Red Onion, cut into chunkcs
Assorted Sweet Peppers, seeded and cut into chunks
2 Tablespoons Kosher Salt
1 Tablespoon Fresh Cracked Pepper
3 Pinches Red Pepper Flakes
1 Teaspoon Allspice
1/4 Teaspoon Cinnamon
Add all ingredients to a zip-lock bag and marinate for 3 - 4 hours in the fridge, or overnight. Preheat grill over medium high heat. Skewer ingredients evenly on metal or bamboo skewers (soak prior to using). Place skewers over direct heat, grilling for 2 - 3 minutes on each side for medium. Remove and rest for 5 minutes prior to serving. Serve.