Happy to team up with the folks over at Double R. Ranch for the following post. Check them out!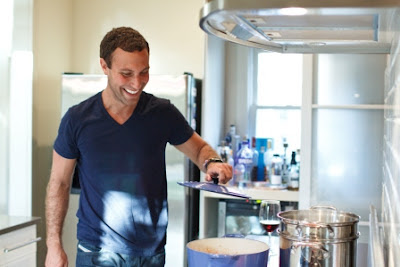 THE 'MUST HAVES' FOR EVERY MODERN MAN
The man's man - a country man. That's how most people typically refer to Matt Moore. After all, his book
Have Her Over for Dinner;
a gentleman's guide to classic, simple meals
taught men all across the country how to wow a lovely lady with a home cooked meal. However, Moore definitely knows a thing or two outside of the kitchen. A Nashville based country music singer/songwriter, and also the creator/owner of the popular gentlemen's cologne line, Moonshine, Moore is the quintessential
Modern Man
. The proud history and lineage of Double R. Ranch Co. embodies the independent, bold, and manly spirit of the man's man - Moore, along with Double R. Ranch Co., is proud to offer up ten must-haves to help men everywhere become a
Modern Man.
Cast Iron skillet
- Heavy, durable, and inexpensive - cast iron skillets retain even heat while blackening, roasting, simmering, or sautéing. The best part? It lasts a lifetime. Your grandkids will fight over it when you're dead.
Go-to Steakhouse Recipe to Impress
- Forget about splurging at the steakhouse. Be a man - learn how to cook killer steaks at home. Purchase a quality cut of steak, such as Double R. Ranch Co.'s Steakhouse Filet. Hint: your meal will only be as good as your ingredients, so don't skimp on your beef. Heat your seasoned cast iron skillet over medium high heat until it's hot. Liberally season the filets on both sides with kosher salt and fresh cracked pepper. Next, sear the filets in the skillet for 3 - 4 minutes on each side (Don't touch it! Allow the meat to cook undisturbed to create a nice sear, i.e. flavor). For thicker cuts, place the steak into a preheated oven at 350 degrees to finish cooking - until internal temperature reaches 135 degrees F for medium rare. Remove steaks from heat, place on a cutting board and tent with foil - resting for 5 or so minutes to allow the juices to redistribute. Serve.
Bottle of Cabernet Sauvignon
- Bold, rich flavors with lush fruit aromas and spice. A crowd pleasing bottle of wine pairs perfectly with a quality steak - and of course, that intriguing brunette on your arm.
Firm handshake
- A man is only as good as his words. A man's words are built on trust. Trust is earned with a firm handshake and a square look in the eye.
Dark sports coat
- Casual with a pair of dark jeans, or dressed up with a pair of slacks - every man should keep a well-tailored, pressed sports coat on hand to arrive fashionably at any occasion.
Pocketknife
- You'll never know how bad you needed one of these things until you start carrying one every day. From opening letters, to 'trimming' the fat - a dependable pocketknife is the real men's 'accessory'.
Cologne
- Smell like a man. Find a scent that avoids celebrity endorsements or frail models to push sales. Instead, stick with woodsy notes of musk, spice, and leather to make your inherent manliness smell even better.
Pair of Boots -
Think more along the lines of John Wayne than Urban Cowboy. A sturdy pair of boots will last years and never go out of style. Whether riding a motorcycle, working in a vineyard, or even dressed up under a pair of slacks - this classic look evokes a 'timeless man' with a touch of attitude.
Personalized stationary
- Stop writing emails and texting. Make a memorable impression by sending hand written notes on card stock paper with your full name in letterpress at the top. Trust us - they will never delete you out of their 'inbox'.