Wrapped up another glorious year at the Cavendish Beach Music Festival. Once again, I'm completely humbled by such a great festival, people, food, and the natural beauty that exists on PEI. Next year is the festival's 5th anniversary - I hear even bigger and better things are in the works - so book your tickets now!
After an
eventful trip
in from Montreal, I was kindly greeted by my buddy Charles at the Charlottetown airport around 10:30 a.m. Thursday morning. Honestly, I had a twinge of a hangover from a long night of taking in the sights, sounds, and tastes of Montreal - but Charles knew just the cure. And by cure, I mean the hair of the dog. Fortunately islanders Jeff Squires and the folks over at the Murphy group have successfully created a beer that is truly the essence of the island, the Beach Chair Lager.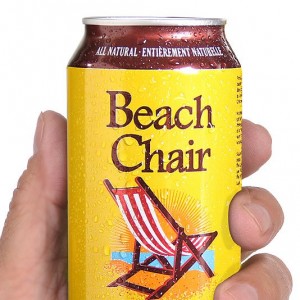 Grab a chair!
Ahhh . . . nothing like a cold beer before breakfast. Charles and I made our way into Charlottetown to check in at the Great George Hotel. Upon our arrival, it seemed that all of those travel delays and headaches were worth it. Rachael kindly offered up a condo suite for my stay - so I certainly obliged. I almost felt guilty taking up so much space - but I got over it upon walking through the door. Wow! A big thanks to Rachael and the Murphy's for showing me such hospitality - truly appreciated.
Jealous? Kidding - it was truly an incredible place to stay during my visit. One cold beer down, I decided it best to grab a workout prior to indulging in some great food. A few loops around the scenic waterfront were just what I needed. My buddy Cory made his way over mid-afternoon and we grabbed some mussels, chowder, and conversation over at Fishbones. (I ended up making 2 more visits for the chowder during my visit) From there, we cruised over to the Merchantman Pub for a few more brews and chats with the locals. Sadly, I had to cut the afternoon short to get back and do some prep for the festival. Work complete, it was off to Gahan House for a nightcap beer and their famous brown bag fish and chips. A great day/evening in the books - time to get to work!
With the sun brightly shining, Charles picked me up again and we were off to the festival - Day 1. Finally got to meet the man responsible for all of my visits to PEI and festival promoter Kevin Meyer. Kevin, like always, was in great spirits along with Chris, and it felt like little time had passed since last year. A solid lunch, and off to meet with chef Adam Loo.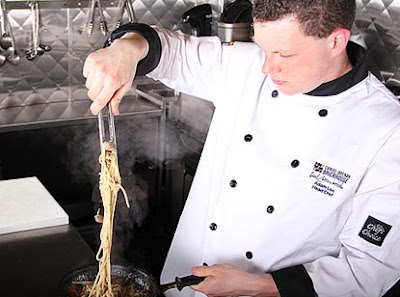 Chef Adam Loo
Adam was awesome, and he and his team busted their ass all weekend to put out great food to thousands of hungry festival go-ers. Seriously can't thank Adam and his team (Darla and the boys) for all of their kind hospitality and professionalism. Great crew. To get some of Adam's serious eats, check out his restaurant in Charlottetown - Daniel-Brenan Brickhouse. Note - they also pour Knob Creek at the studio bar upstairs - just a hint for you southerners like myself!
Food, food, and more food. Over the next three days I would boil over 1500 lbs of local PEI baby red potatoes, fresh corn, local pork Andouille sausage from Marty Taylor, mushrooms, crawfish, onions, shrimp, and fresh PEI north shore lobster. We served well over a thousand folks who kindly listened to my stories, laughed at my less than funny jokes, and showered me with compliments on the food. No seriously, everyone couldn't have been kinder regarding the experience and the food. Always makes me smile to watch people enjoy new (crawfish) food, while taking a spicy slant on island favorites. A special thanks to Issac Murphy, Rob, and Ray for their assistance each day on the demos. And of course, a big thanks to the folks over at Cavendish Farms for allowing me to be a part of their sponsored demos.
I finished the evening by boiling up some lobster for the one and only Dierks Bentley. It must have been good, because he and the boys put on an incredible show!
Made it back into town to stir up just a few more beers and a meat-head oyster at Sim's Corner Steakhouse. Nothing better than gulping down a fresh oyster the size of my palm as a nite cap. Good times.
Day 2 - back in action. Enjoyed quite a few bands at the smaller kitchen stage, including EJ Ouellette and Crazy Maggie from Boston - good guys.
Once again, word got out to some of the artists that a Nashville guy was cooking up PEI lobsters. I'm no islander - but I think I did a pretty fair job paying homage to the traditional and simplicity of a great cooked lobster. I wrapped up the day by cooking a few reserved lobsters for Randy Owen and crew from Alabama. Pretty darn cool. Off to bed early - you'll see why.
Day 3 turned out to be the highlight of my trip, and we got started early - 6:30 a.m. No, I wasn't prepping in a kitchen, instead my buddy Kim and his pal Rick kindly offered to take me to one of their secret honey holes to do a little fly fishing on the island. Honestly, I can't thank these two enough for breaking up the routine and getting me back out on the water. I used to make time for fishing, but lately it seems that I never get an opportunity to enjoy the great outdoors. So, when Kim and I chatted about our mutual love of the sport, he took it upon himself to arrange a great morning out on the beautiful Morrell River.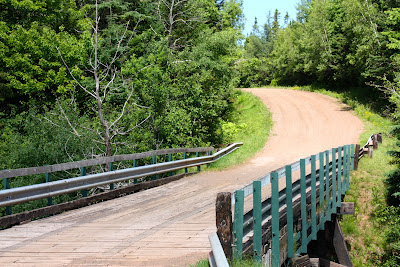 Indian Bridge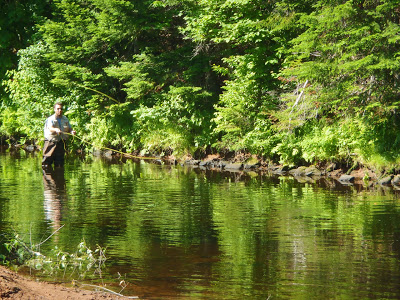 Thanks to Rick for snapping me in action.
So, how'd it go? Let's just say I left plenty of fish out there for you! Fortunately, I didn't get skunked, and I closed out my morning by reeling in a small brookie before the trip home. Both Kim and Rick were great hosts, and you can check out all of their adventures on their site. Thanks again fellas!
The drive back into Charlottetown provided plenty more beautiful PEI scenery - rolling hills, greenery, and the crystal blue Gulf of St Laurence on the horizon.
Back in Charlottetown for a bit.
It was back off the the festival site for one more day of music and food. It was the biggest day yet, and I got a kick out of running into my buddy Tristan from Nashville who road manages Rascal Flatts. Funny how you have to come to one corner of the world to run into friends!
And just like that, the festival came to a close. Once again, I'd like to thank Kevin Meyer, Chris Smith, Chris Meyer, Charles, Kim, Rick, Kurt, Ray, The Murphy's, Racheal, Karen, Cory, Adam, Darla, Rob, Jeff, Cavendish Farms (Wayne and Suzanne), and everyone else for making me feel at home on the island. Your hospitality, generosity, and kindness is truly appreciated.
With that said - I'm hopping a plane tonight to meet back up with Kevin and Chris in Lansing, Michigan to cook for the Common Ground Music Festival.
On the road again!
MM