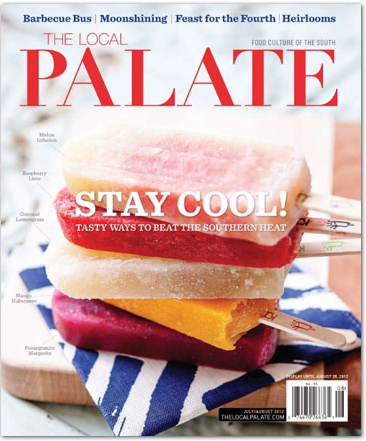 Happy to do some more freelance work for The Local Palate magazine again this month. I've featured some of my favorite recipes for summer entertaining - they are sure to be a hit! Better yet, I just noticed that I can snag a copy of this great magazine at my local grocery store! Congrats to this Charleston, SC based company on taking over the South - keep it up!
MM
Seasons Eating's
by Matt Moore
Homemade peach ice cream on sunburnt lips . . . that's what country is.
The preceding lyric just so happens to be one of my favorites from friend, and fellow country music singer Luke Bryan.

For me, it's always remarkable how the power of a single lyric can draw back so many memories - and perfect moments.
I would argue that food, just like a song lyric, can do the same exact thing.

Oftentimes, cutting into a fresh summer watermelon brings me back to the days of my youth.

That cool, sweet refreshing bite always tasted best after a long day of sweating it out on the football field.

Yet, sometimes cutting into that exact same watermelon recalls a different memory.

I'm transported back to college in Athens, GA, where a watermelon was almost always spiked with cheap vodka.

Ah, those were the days - though the memories of those headaches are still very clear.
To describe a summer in the South, one must first step outside.

Invariably, the warmer weather creates an environment where all of us are called to enjoy the great outdoors - lake weekends, picnics, and evening strolls chasing fireflies are all part of the southern summer experience.


All things considered, one of my favorite summer activities is grilling outside.

For those who hail from above the Mason-Dixon Line, I'd like to make two things clear when it comes to entertaining in the South.

First and foremost, and with all due respect a grill is a grill - not a barbeque.

Second, the act of 'barbequing' should only refer to slowly cooked, smoked meats served alongside a tomato, mustard, or vinegar based sauce.

In other words, if you host a 'barbeque' in the South, don't serve your guests hamburgers and hotdogs.

Now, let's get back to the good stuff . . . food.
Don't get me wrong, I love a grilled hamburger or hotdog just as much as the next guy, but sometimes such a menu seems less than 'inspired' when it comes time to entertain my guests.

For me, I like to think outside the box.

With that in mind, I've put together an eclectic southern menu of items that all can be prepared on the grill.

Don't worry; I haven't weighed you down with heavy choices.

Instead, I've kept these dishes rather light and tasty - yet always satisfying.
So enjoy invite six or eight of your closest friends over for your next cookout.

Surrounded by a hot grill, cold beer, and great food - I can guarantee you and your guests will enjoy the very best of summers in the South.
Grilled Andouille Sausage + Creole Mustard -
Andouille is a pork sausage which can pack plenty of heat.

Local butchers and specialty stores regularly stock this Cajun favorite throughout the year.

I like to serve this dish informally, while still on the cutting board, to give my guests a chance to have a small bite to satisfy their appetite.

If you can't find creole mustard, go with whole grain mustard as a substitute.

Truth be told, the spice of this dish typically gets my guests into their second beer rather quickly - which is always a good thing in my book.
(Prep 5 mins, Cook 15 mins, Serves 6 - 8)


2 lbs Fresh Andouille Sausage
½ Cup Creole Mustard
Chives, garnish
Toothpicks, to serve

Prepare grill over medium high heat.

Add whole sausage links to grill and cook for 3 - 4 minutes on each side, turning on occasion to ensure they do not burn.

When sausages are fully cooked (about 10 - 12 minutes), remove from heat, and allow sausages to rest on a cutting board for 2 - 3 minutes.

Use a knife to cut the links into 1 inch bite-sized pieces.

Garnish with chives, and serve with toothpicks and mustard on the side.



Grilled Peach + Red Onion + Goat Cheese + Pecan Spinach Salad
- I always love a salad with warm and cool contrasts.

This bright, flavorful mix of warm grilled peaches with the cool, tangy goat cheese, bite of the red onion, and crunch of the pecans is simply delightful.

For best results, I like to use peaches that are 'just-ripe', as I find that overly ripe peaches tend to fall apart on the grill.

Don't fret, the heat of the grill will help to tenderize the peaches and make them juicy and flavorful.

To make your life easier, you can arrange this dish well in advance, just wait to add the dressing until prior to service to prevent the spinach from wilting.
(Prep 15 mins, Cook 10 mins, Serves 6 - 8)

Salad

4 'Just-Ripe' Small Peaches, pits removed and quartered
Canola Oil
8 Cups Baby Spinach, washed
1 Medium Red Onion, sliced paper thin
1 ½ Cups Crumbled Goat Cheese
1 Cup Toasted Pecans, roughly chopped
Honey Balsamic Dressing, recipe follows

Prepare grill over medium high heat.

Toss peaches in canola oil, and add to grill over direct heat.

Grill peach slices for 2 - 3 minutes on both sides, creating nice grill marks; remove from grill and set aside.

Place spinach leaves into the bottom of a large serving bowl.

Top the spinach with onion, goat cheese, and pecans.

Finally, finish the dish by arranging the grilled peaches on top of the salad.

To serve, toss with dressing until evenly combined.

Dressing

¼ Cup Aged Balsamic Vinegar
1 ½ Tablespoons Honey
½ Teaspoon Salt
1 Cup Extra Virgin Olive Oil

Combine the first three ingredients into a medium sized mixing bowl.

Next, slowly stream in olive oil while vigorously whisking ingredients until emulsified, or evenly combined.


Simply Grilled Shrimp Kebabs + Rosemary - I love the simplicity of fresh, grilled shrimp.

This recipe 'ups the ante' on presentation by using rosemary stalks as the skewers that hold everything together -while also imparting great flavor.

To prevent the stalks from burning, be sure to soak them in water prior to grilling.

You can peel back the rosemary leaves, and sharpen the bottom of the stalk to make skewering the shrimp effortless.

Served either hot off the grill, or at outside temperature, these will surely delight your guests. (Prep 30 mins, Cook 6 - 8 mins, Serves 6 - 8)


12 Mature Rosemary Stalks, soaked in water for 30 minutes
1 ½ lbs Fresh Large Gulf Shrimp, deveined and peeled with tails on
Extra Virgin Olive Oil
Kosher Salt
Fresh Lemon, sliced
Prepare grill over medium high heat.

Toss shrimp in olive oil and season lightly with kosher salt.

Next, carefully skewer 3 - 5 shrimp onto each stalk, depending on the size of the shrimp.

Do not overcrowd; allowing the shrimp to cook evenly.

Cook shrimp, over direct heat for 2 - 3 minutes on both sides, or until shrimp are firm and bright pink.

Remove from heat, and finish with a squeeze of fresh lemon juice over the top of the shrimp.

Serve.
Grilled Red Onion + Squash + Zucchini
- these grilled vegetables make for a colorful, tasty side dish to serve alongside the main course.

The beautiful grill marks and tangy marinade impart plenty of great flavors, yet the dish remains light and refreshing.

It's best to marinate the vegetables for 30 minutes - no more as the vegetables will become soggy, and no less as you want the flavor to soak in.

(Prep 35 mins, Cook 10 mins, Serves 6 - 8)

2 Large Red Onions, peeled and cut into ½ inch 'coaster-like' discs
2 Large Yellow Squash, cut into ½ inch slices
2 Large Zucchini, cut into ½ inch slices
10 Cloves Garlic, minced
½ Cup Extra Virgin Olive Oil
¼ Cup Red Wine Vinegar
1 ½ Tablespoons Kosher Salt
1 Tablespoon Fresh Cracked Pepper


Prepare grill over medium high heat.

Thirty minutes prior to grilling, equally divide onions, squash, zucchini, and garlic into two large plastic storage bags.

Whisk together oil, vinegar, salt and pepper until thoroughly combined.

Evenly divide the marinade, and pour over the vegetables.

Using your hands, toss the ingredients together, careful to keep the onion rings intact.

Marinate for 30 minutes.

Grill vegetables over direct heat (Onions: 3 - 4 minutes per side, Squash and Zucchini: 2 - 3 minutes per side).

Remove from heat.

Serve.
Grilled Corn + Butter
- I tend to be more of a purist when it comes to grilling corn.

The flavor from the grill, along with the savory butter, provides plenty of love to enhance the sweet taste of natural, fresh corn.

This recipe requires that the corn be cooked over indirect heat, or offset from the heat source.

Since most of the other items require direct heat, these can be placed on the unlit side of the grill, or if using charcoal, on the area away from the coals.


(Prep 10 mins, Cook 15 mins, Serves 6 - 8)

6 - 8 Ears Fresh Corn, husks pulled back, silks removed
8 Tablespoons Salted Butter
Kosher Salt

Prepare grill for indirect

cooking over medium high heat.

Coat each cob with a tablespoon of butter and lightly season with kosher salt.

Next, carefully secure husks around the cob, using a string to tie the husks together if necessary.

Grill corn, with the lid covered, over indirect heat for 12 - 15 minutes, turning occasionally.

Remove corn from grill.

When ready to serve, peel back husks (careful when hot), and serve alongside extra butter.


Grilled Whole Red Snapper + Lemon + Thyme - most people shudder in fear at the thought of preparing a whole fish, but truth be told, this method couldn't be easier.

To save time, have your local fish monger scale, gut, and dress the fish at the store.

Even though the fish might be staring back at your guests - have some fun by reserving the best part of your fish for your honored guest - the cheeks!

(Prep 10 mins, Cook 20 mins, Serves 6 - 8)

4 - 6 Whole Red Snapper, about 1 ½ - 2 lbs. each, scaled and gutted
Extra Virgin Olive Oil
3 Lemons, cut into ¼ inch slices
12 Sprigs Fresh Thyme
Kosher Salt
Fresh Ground Pepper
Prepare grill over medium high heat.

Using a sharp knife, make 4 - 5 slits into the sides of each fish.

Coat the fish in oil, and place the lemon slices and a few sprigs of thyme into each cavity.

Season the fish liberally with kosher salt and fresh cracked pepper.

Grill fish over direct heat for 6 - 8 minutes on each side - or until flesh flakes and is cooked through.

Remove from grill and sprinkle lightly with sea salt and squeeze remaining lemon juice over the fish.

Serve.
Grilled Flatbread + Mascarpone + Mixed Berries -
to round out this outstanding meal, I've put together one of my favorite grilled creations - done dessert style.

Grilled pizzas are a fast weeknight dinner, as they can be prepared quickly after work, and the high heat of the grill forms a perfectly crispy crust.

With that in mind, I've sweetened the deal.

Mascarpone cheese, enhanced with honey and topped off with fresh warmed berries is the perfect way to enjoy a bite-sized dessert to finish the evening.

TIP - I like to leave the grill on low heat while eating the main course, as it will cook off and clean the grill in time for dessert.



(Prep 10 mins, Cook 10 mins, Serves 6 - 8)

2 Store-Bought Pizza Dough Balls, refrigerated
Canola Oil
2 Cups Mascarpone Cheese
2 Tablespoons Honey
1 Teaspoon Orange Zest
1 Cup Raspberries
1 Cup Strawberries, stems removed and sliced in half lengthwise
1 Cup Blackberries
Powdered Sugar, garnish
Mint Leaves, garnish

Setup grill for direct and indirect cooking over medium-high and low heat, respectively.

On separate cookie sheets, coat dough in canola oil and form two circular 12-inch flat surfaces with the dough, about ¼ inch thick consistency throughout.

Carefully place the dough over direct heat, stretching the dough over the grate to ensure an even consistency.

Cook for 60 - 90 seconds, or until the underside of the dough is browned and the top of the dough is bubbling with air pockets.

Carefully flip the dough and move to indirect heat.

Meanwhile mix the Mascarpone, honey, and orange zest together in a bowl.

Next, liberally smear the mixture over the top of both flatbread surfaces, and evenly top with assorted berries.

Cover grill and cook for another 4 - 6 minutes, or until the fruit is warmed through.

Remove from heat, and garnish with a dusting of powdered sugar and a few mint leaves.

Cut into quarters and serve.