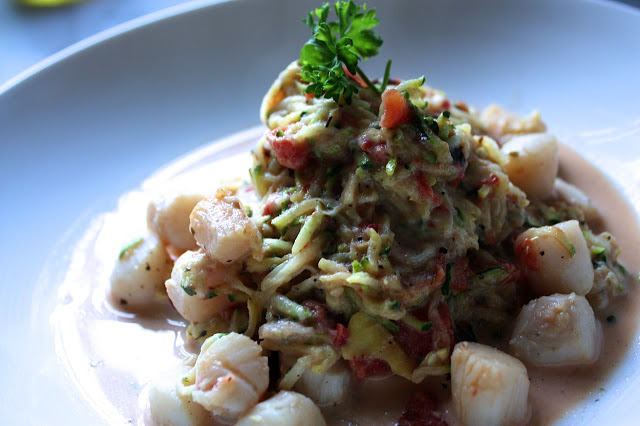 Bay Scallop Scampi + Zucchini 'Pasta' (prep 10 mins, cook 10 mins, serves 4)
Seafood scampi is a staple around my house. Served traditionally with linguine noodles, it's the perfect pasta dish for sopping up all of the delicious and buttery sauce laden with seafood flavor throughout. Zucchini makes a great pasta substitute when you are looking to lighten up this classic. Using a vegetable peeler or food processor, one can thinly slice zucchini ribbons or grate the vegetable into thin strips to serve as a base for this great dish.
4 large zucchini
Kosher Salt
½ stick unsalted butter
4 cloves garlic, minced
½ cup dry white wine, or substitute chicken stock
1 16.5 oz can fire roasted diced tomatoes
½ lemon, juiced
Fresh cracked pepper
1 lb bay scallops, or substitute shrimp, crab meat, etc.
½ cup heavy cream
Parmesan cheese, grated
Using a vegetable peeler or food processor, carefully slice zucchini into thin strips.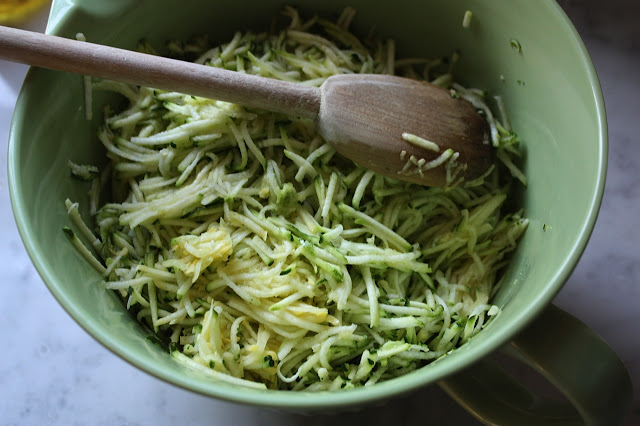 Season lightly with salt (to help 'pull out' the water) and place on paper towels to drain. Meanwhile, melt butter in a large skillet over medium heat; add garlic and sauté for 30-60 seconds, careful not to burn. Add wine, bring to a simmer, and reduce by half, about 2 minutes. Add tomatoes and lemon juice, season with cracked pepper and salt to taste. Next, add zucchini and scallops to poach in the liquid, stirring on occasion until scallops are firm to the touch and zucchini is al dente, about 2-3 minutes. Remove from heat, add cream, and stir to incorporate. Serve with grated parmesan cheese.