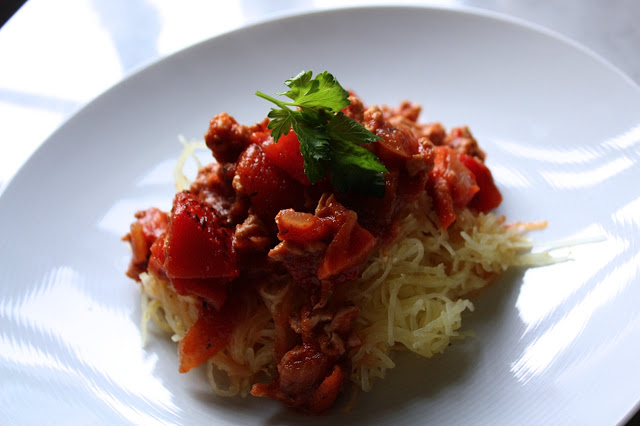 Turkey Bolognese + Spaghetti Squash
- this is low carb comfort food at its finest. If you've never cooked spaghetti squash before, now is the time to start. It's such a versatile pasta substitute that works with virtually any sauce - red, white, cream, etc. I've provided a step by step procedure for getting it perfect every time. To keep things healthy, I've also whipped up a quick Bolognese sauce using lean turkey breast meat. For a vegan option, skip out on the turkey and throw in chunked portabellas. Either way, this recipe is rich and delicious, without the carb-laden hangover. (Prep 10 mins, Cook 1 hour, Serves 6 - 8)
Spaghetti Squash
2 Large Spaghetti Squash
Kosher Salt
Fresh Cracked Pepper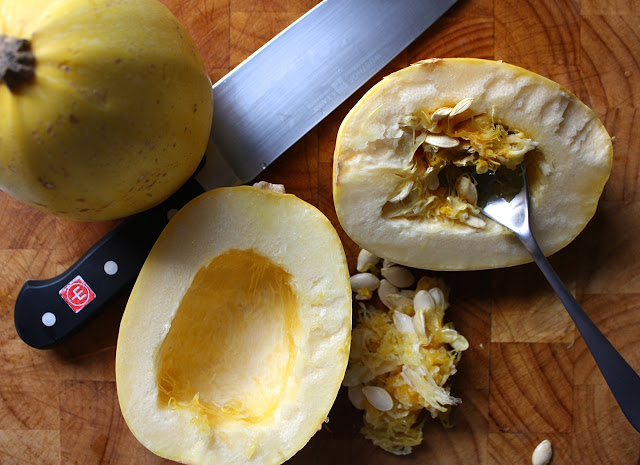 Carefully cut squash in half lengthwise and use a spoon to core out the seeds. Season the cut sides with salt and pepper and place cut side up into an oven at 400 degrees F for 45 minutes.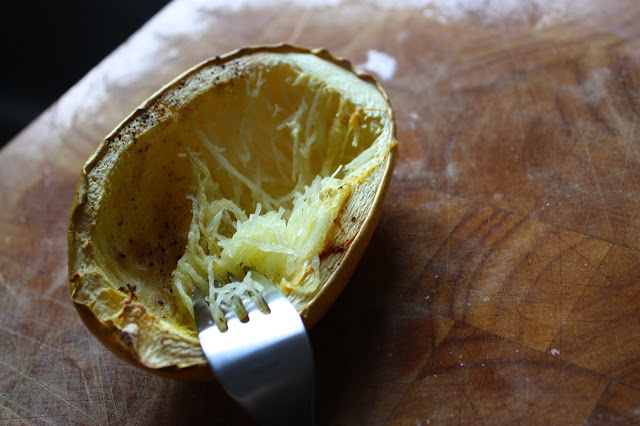 Remove squash from oven, drain, and allow to cool slightly. Use a fork to 'dig out' the strands of squash to be used as the pasta in the dish.
2 Tablespoons Extra Virgin Olive Oil
1 Onion, finely diced
2 Carrots, finely diced
4 Cloves Garlic, finely diced
Kosher Salt
Fresh Cracked Pepper
½ Teaspoon Crushed Red Pepper Flakes
1 Teaspoon Italian Seasoning
1 lb Ground Turkey Breast
½ Cup Red Wine
2 16.5 oz Cans Petite Diced Tomatoes
1 28 oz Can Tomato Sauce
Parmesan Cheese, grated
Preheat a skillet over medium high heat, add oil.
Add onions and carrots and saute for 5- 7 minutes.
Next add garlic and season with salt and pepper, Italian seasoning, and crushed red pepper flakes.
Add ground turkey and cook until no longer pink, about 5 minutes.
Deglaze pan with red wine and bring to a simmer to allow the wine to reduce by half.
Finally, add diced tomatoes and sauce, reduce heat to low and simmer for 30 - 45 minutes.
Serve over the top of the spaghetti squash with grated Parmesan cheese to taste.