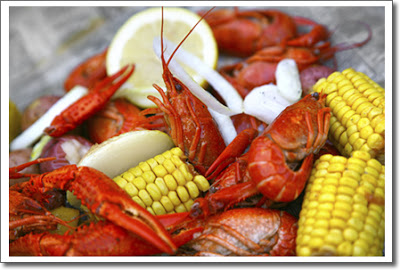 I suppose I lied - after all, I was supposed to be taking a break, right? Oh well, I wanted to provide my recipe for a low-country boil, which I'll be serving to hundreds of country music fans next week in PEI Canada. To make things even better, I'll be adding in some fresh PEI ingredients: lobster, potatoes, corn, onions, sauasage, etc. It's going to be a blast! Forget hamburgers and hotdogs over this 4th of July - pick yourself up some shrimp, crabs, crawfish, lobster, etc. and get down Cajun style!
All the best!
MM
Note:

We southerner's love throwing ourselves a party.

After all, I can think of nothing better than sharing good food and cold beer with ten of my best friends.

I love this recipe because the eating experience is communal, and quite frankly cleanup is quick and easy.
I will forever be indebted to the kind folks who have shared their opinions, philosophies, and methods with regards to making the perfect low country boil.

I can say that I do rest on the side of Les Cajuns when it comes to spice, crawfish, sausage, etc.

However, there are a few folks over on the Atlantic that do things right in the boil world, especially if you are in Baltimore eating Blue Crabs and drinking Yuengling at LP Steamers.

In other words, this recipe is the sum of my experiences, travels, tastes, and preferences.
My highest recommendation is to always have cold beer, good folks, and good tunes around during boil season [Important: boils are always remembered by number and season, i.e. This is the third boil of the season]
I'll be honest, the following ingredients are mere approximations, and they tend to get fuzzier with each beer that is consumed throughout the boil process. However, I can guarantee that this recipe will have your friends giving you high fives and thanking you for years to come.
5lbs Vidalia onions, quartered
3lbs Fresh yellow corn, shucked, and cut in half
2lbs Large button mushrooms
5lbs Large Shrimp, deveined, head and shell on
10lbs Large Live Crawfish (I like to purge my crawfish in saltwater for 30 minutes to ensure that they are clean.

IMPORTANT-Do not add dead crawfish to the pot)
Pick a bag of Zatarain's PRO BOIL.

It should last you the season, and it is the best stuff on the market.

Do not use any "boil in a bag" or "concentrated liquid products".

In a pinch, I suggest adding a liberal amount of Tony Chachere's seasoning to the water.
Fill a large 60 quart pot 2/3 full of water.

Add all seasonings into the pot; crank up the heat with the lid on to quicken the process.

Once the water comes to a boil, add potatoes and corn.

After 5-10 minutes (1 beer), add onions, mushrooms, and sausage.

Return to a slow boil, after 10 minutes add crawfish.

Allow the water to come back to a strong boil for 1-2 minutes and finally add the shrimp.

Immediately turn off the heat and cover the pot.

Allow the pot to sit undisturbed for at least 10 minutes.

Next, stir the pot to ensure that the crawfish are bright red in color and the shrimp are pink and firm.

Note, at this point you can allow the boil to soak up more flavor/heat, by allowing it to rest.

Drain the basket and pour out on a large table covered with newspapers.

Season the boil with Cajun seasoning.

Have lemon slices and paper towels readily available.

Drink and eat up.