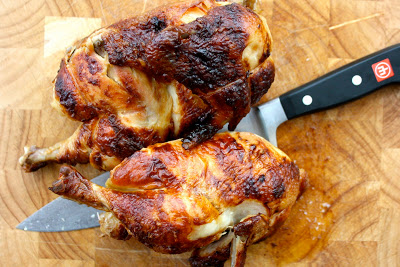 It's hot down here in the South.
One thing is certain, we've got our fair share of fresh vegetables. Thankfully 'rain is a good thing' and our TN summer has seen plenty of rain to keep our crops fed and plentiful.
I stopped off at the Nashville Farmers Market this past weekend to pick up some goods. It's always nice to have some ripe vegetables on hand. Instead of taking the time to roast a chicken, I picked up a rotisserie chicken from my local grocery store to go along with the meal. HINT: More on those Rotisserie Chickens Later.
Anyways, I simply sliced some Bradford tomatoes and seasoned them with sea salt and cracked pepper.
The squash, however was my favorite part. Check out my recipe below.
Sauteed Squash
2 Tablespoons Unsalted Butter
1/2 Sweet Onion, roughly chopped
2 Cloves Garlic, smashed
2 Small Summer Squash, cut into 1/2 inch rings
Sea Salt
Fresh Cracked Pepper
Add butter to a non-stick pan over medium high heat. When butter has melted, add onions and cook until browned and tender, about 5 - 7 minutes. Add garlic, and stir to coat in butter. Next add squash and season with salt and pepper. Saute squash, stirring on occasion, until slightly browned yet still al dente - 4 minutes. Serve.