I'm back!
What an incredible week spent in P.E.I. Canada. Upon arriving through Toronto on Monday, July 4th we were kindly greeted by Charles who handled our transportation throughout the week. The weather was gloomy and a bit cool, however we were able to immediately see all of the beauty of the island - the rolling hills, ocean, and homes. After dropping things off at the hotel, we made our way around downtown Charlottetown and stopped in for dinner at the Gahan House. Highlights of the meal include their signature mussels, brown bag fish and chips, and of course a copious amount of their red ale. After a great dinner, we made our way to Sim's Corner for a few more cocktails - and about 3 meat head oysters that were the size of my hand - seriously.
Tuesday we headed north through the towns of New Glasgow, Rustico, and Cavendish. The countryside is spotted with old homes perched amongst gently rolling hills - all with the crystal blue Atlantic on the horizon. We arrived at the festival site for the Cavendish Beach Music Festival. It's an outstanding place to showcase music, with a natural slope looking out on the ocean. After touring the grounds and meeting P.E.I. renowned chef, Ross Munro (an incredible gentleman), we made our way to the beach in North Rustico. The beaches sported red sand and grassy dunes - and a few spiders I might add! After a dip in the cold Atlantic, we hit up the Blue Mussel Cafe for more mussels and smoked haddock . . . we also sampled the local moonshine which was quite good - even considering my critical Southern standards. That night we dined at Water-Prince Corner Shop, where I had a creamy and satisfying seafood chowder to end the long day.
Wednesday was my only day to goof off - and it just so happened to be my lovely lady's birthday. After meeting with Tracey and Shannon about the upcoming Fall Flavors event in September, I picked up breakfast to-go from Casa Mia. After that, we rented bikes and toured the waterfront through the beautiful Victoria Park . . . the weather was perfect, and the homes were quite charming all along the route. A quick stop off at the St. James Gate was the perfect place to grab a nosh for lunch - Greek nachos, wings, a few beers, and a frozen Bellini made with real peaches that was fantastic. (You can hopefully see by this point my entire diet was put on hold for the week). After riding around downtown to work off the calories, we finished getting ready and met Kurt and Keith at the Yacht club for a sailing tour of the harbor. Definitely a highlight of the trip; we enjoyed wine and cheese with stunning views of the ocean, downtown waterfront, and a few lighthouses that surround the area. And just like that, we were back at Sim's Corner Steakhouse for an incredible birthday dinner - thanks to everyone for the personal attention and great meal.
Thursday - Sunday was quite the blur. With the help of Ross and Cory, we were able to put out several hundred pounds of food each day - featuring tons of local P.E.I. ingredients including Lobster, Potatoes, and Sausage (Island Taylored Meats). To say that the ingredients on this island are incredible would be a huge understatement. We supplemented our low-country boil with corn, shrimp, craw-fish, onions, and several Molson Canadians. After noticing that the Canadian palate is a bit more mild than say, in Southern Louisiana, I backed off my liberal use of cayenne pepper in the seasoning blend - even though I did add a little more kick with each day!
Overall, I can't say enough good things about all of the kind people we met. Everyone was polite, courteous, informed, and enthusiastic about our work. A local was even kind enough to drop off some Acadian meat pies to show his appreciation - they were fantastic! A few were even so kind to tell me that the lobster was the 'best they had ever eaten' . . . so thanks for stoking my ego!
And of course, there's the music! Brad Paisley, Trace Adkins, Aaron Lewis, Toby Keith, Eric Church, and a slew of others including some great Canadian acts all made up an incredible roster of talent. Did I mention I played 4 shows as well? Thanks to all for a great response on all of my songs - it's always a pleasure to perform in front of such a receptive audience.
I was able to sample even more food (imagine that) from Fishbones, Castellos, and a final trip to the Gahan House for more fish & chips before making my return to Nashville. What an incredible week of eating, drinking, cooking, and performing.
A special thanks to Chris and Kevin Meyer, Jeff Squires, Ross Munro, Cory, Charlie, Kurt, Kim, Tracey, Shannon, Kelley, The Murphy's and all of the others who made our trip a lasting and memorable experience. I can't wait to return in September!
Now, it's time to get back to the
No, Low, Go Diet
to get back into shape!
Cheers!
MM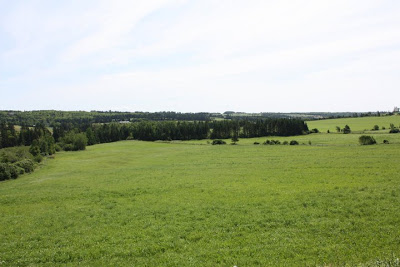 The rolling green hills make up the landscape of P.E.I.
The harbor outside of New Glasgow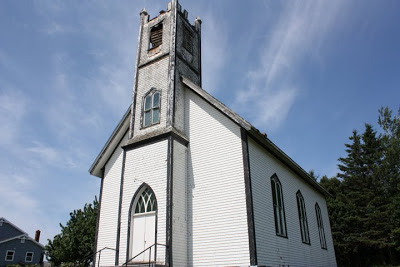 A beautiful church in New Glasgow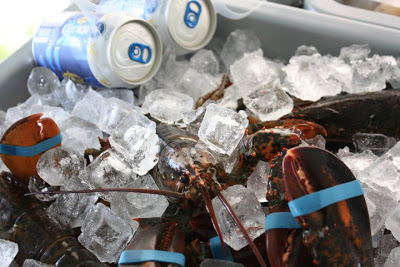 Lobster + Beer = Good Times!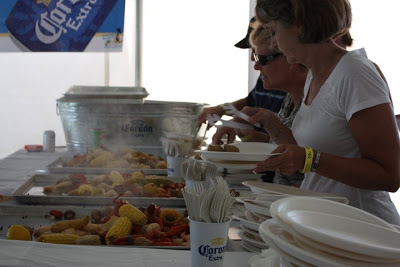 Locals feasting on the Low-Country Boil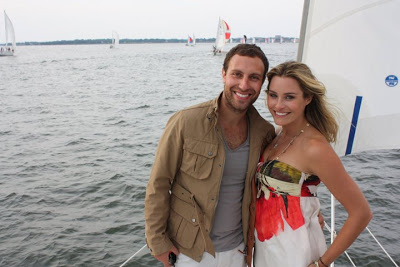 After a successful day of sailing the harbor