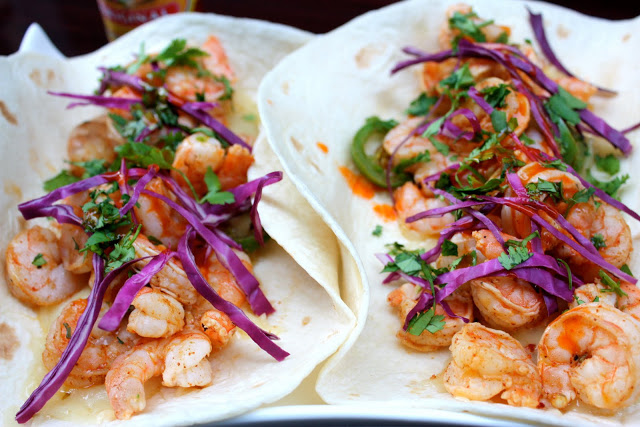 I was happy to contribute my Grilled Shrimp Taco recipe to a great site, The Daily Meal. Better yet, the writer, Anne, just informed me that it was syndicated to Yahoo - and that my recipe was the featured one amongst the bunch. Which has got me thinking - I'm definitely making Grilled Shrimp Tacos tonight and throwing back a few cold Cervezas!
Cheers -
MM
Grilled Shrimp Tacos
- Matt Moore, Have Her Over For Dinner
Inspired by a dish served at Tower 7 in North Carolina, this shrimp recipe conjures up the fresh and exotic flavors of the beachside town and is simple and easy to make.
Tip:
Substituting Jack cheese for Pepper Jack cheese adds an extra kick of spice to this dish.
INGREDIENTS
• 1 pound medium shrimp, peeled and deveined
• 1/4 cup extra-virgin olive oil
• Zest and juice from 1 lime
• 1 jalapeño, sliced
• 1/4 teaspoon chili powder
• 1/4 teaspoon cumin powder
• Kosher salt and freshly ground black pepper, to taste
• Soft flour tortillas, warmed
• Jack cheese, grated, for garnish
• Red cabbage, shredded, for garnish
• Cilantro, minced, for garnish
• Hot sauce, for garnish
DIRECTIONS
Combine and mix the first 7 ingredients into a large bowl and allow to sit for 30 minutes. Meanwhile, heat a grill pan over medium-high heat.
Add the entire contents of the bowl onto the grill pan and cook until shrimp are bright pink and firm, about 2-3 minutes.
Begin assembling tacos by adding a layer of cheese, followed by the shrimp, and the remaining ingredients on top of the tortillas. Serve immediately.