Been a busy weekend. Enjoyed the day off today for Veteran's Day, but mainly tried to be as productive as possible catching up on all of the other odds and ends of life that I tend to ignore. Car maintenance, house cleaning, taking about 1000 lbs of odds and ends to Goodwill, and so on.
I feel purged, caught up, and ready to take on the week. Surprise - more travel. Oh well - beggars can't be choosers. The next few months will be filled with quite a few more exciting updates - from the food world, merchandise world, TV world, and so on. Stay tuned - I'll be 'leaking' info here and there and along the way.
Nevertheless I did slow down a bit to enjoy a hearty breakfast after my morning run. It was the perfect healthy and nutritious start I needed to get my day moving. This omelet, along with some Community Coffee saved the day. Enjoy!
MM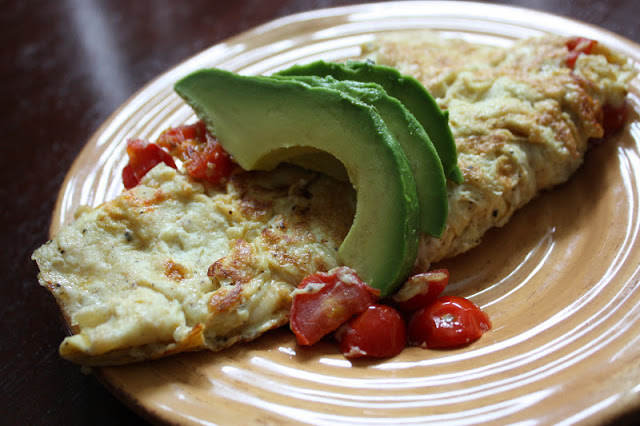 California Omelet
1 Teaspoon EVOO
6 Cherry Tomatoes, halved
3 Eggs, scrambled
1 Pinch Salt
1 Pinch Black Pepper
2 oz Mozzarella Cheese, grated
1/4 Ripe Avocado, sliced
Heat oil in a non-stick skillet over medium high heat; add tomatoes. Cook tomatoes for 1-2 minutes; add eggs. Gently lift cooked portions off egg of the bottom of the pan while tilting the pan to allow the runny portions to reach the heat - do not scramble. Once egg mixture is set, quickly flip entire egg mass in pan. Cook for one more minute, add cheese to one side, fold, and plate. Top with sliced avocado. Serve.