Life is returning back to normal this week. After much excitement, I can say that all of the wheels are back in motion to make 2012 an even better year than last. I'm off to a good start!
Creatively, I tend to work my best in the mornings. I typically can accomplish twice as much between the hours of 6 a.m. - 10 a.m. as I can the rest of the day. That is of course, assuming I'm not trying to get over last night's cocktails. Those mornings typically turn out less productive than I'd like. Otherwise, I tend to come up with most of my wild ideas while pounding the pavement on long runs around Nashville. Hey, to each his own, right?
Anyways, I'm wanting to start this year off right by getting back to the basics, personally and creatively. Of course, I've advocated for a long time that starting the day off right begins with eating a healthy breakfast. Towards the end of last year, I wrote a post on "How to Make Better Eggs" for my pal Brett over at The Art of Manliness. Contrary to popular belief - most people don't know how to make great eggs. Yet . . . they want to know how. That post turned out to be one of my most popular posts in my series of Kitchen Fundamentals.
So, in light of this month's upcoming posts, I've been pretty busy making omelets. I wanted to share one of my favorites that's not part of my AofM series coming out later this month.
More importantly - it feels good to be back in the kitchen!
Cheers!
MM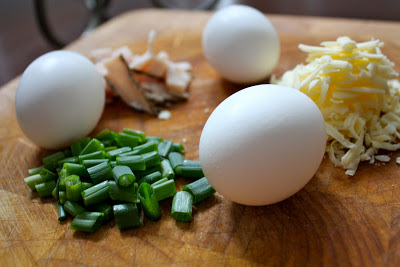 Ingredients for my Turkey, Green Onion, White Cheddar Omelet
Turkey, Green Onion, White Cheddar Omelet


1 Tablespoon Unsalted Butter
2 Cracked Pepper Deli Sliced Turkey, finely diced
2 Tablespoons Green Onion, finely diced
3 Large Eggs
Kosher Salt
Fresh Cracked Pepper
¼ Cup Wisconsin White Cheddar Cheese, grated

Preheat a 10 inch non-stick skillet over medium high heat; add and melt butter.

Add the turkey and slightly brown for 1
-
2 minutes.

Meanwhile, whisk together eggs until frothy and combined and season liberally with salt and pepper, mix in sliced green onions.

Add egg mixture to pan and cook undisturbed for 45 - 60 seconds.

Using a wooden spoon or spatula, carefully lift the cooked portions from the bottom of the pan while tilting the pan to allow the runny portions to reach the hot surface.

When the majority of the eggs have set, and with the top portion still moist, carefully flip the omelet over using a spatula - or score some bonus points - by using a quick back and forth motion, flip the omelet in the pan by using gravity and the lip of the pan (Note:

you might want to do this over the sink on the first try).

Assemble cheese on one side of the omelet and cook the underside for another 45 - 60 seconds.

Finally, serve the omelet out of the pan, folding over the other side as you plate to melt the cheese and finish the presentation.

Serve.
Ingredients in the pan - Work and set the eggs another minute before flipping.




Voila - breakfast is served. I like to add A LOT of green onions - sweet, mild, and delicious - not to mention color!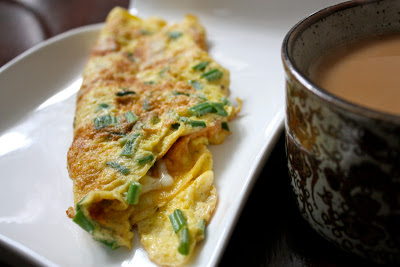 Let us not forget a warm cup of Don Francisco's Hazelnut Coffee.