Very excited to announce that I'll be doing a monthly column for my friends over at The Art of Manliness. If you've yet to check out their site, do yourself a favor and go immediately. I've been fortunate to create several posts for their outstanding site in the past, and I'm really looking forward to this new series. Head over and check it out here.

Kitchen Fundamentals

During my senior high school football season, my coach forced me to make the switch from linebacker to wingback.

Initially, I was excited about being on the offensive side of the ball.

Envisioning my name in print for scoring the winning touchdown in Saturday's newspaper had quite the appeal.

Besides, I had spent the past three years on the other side of the coin, and since defensive players rarely get the recognition they deserve, I was ready to get my moment in the sun.


Boy was I wrong.

My coach did not intend for me to carry, much less catch the ball.

Instead, he wanted to use me as an oversized blocking back.

Out of a playbook of over one-hundred plays, only one offered the opportunity of getting the ball into my hands.

Oh well.


Never to be discouraged, I embraced my new role as wingback.

For me, playing defense was always relatively simple: A) Find the man with the ball B) Tackle the man with the ball.

Offense, however presented new challenges:

memorizing plays, adjusting to different assignments, and working off the snap count.

Thankfully, I caught on fairly fast.

As a former linebacker, I was accustomed to playing physical football.

I had no problem making blocks at full speed against linemen twice my size.

In fact, I enjoyed the challenge.

That was of course, until I attempted to thwart an oncoming pass rush.


It was a late August afternoon and I had just about solidified my starting role as wingback before our exhibition game.

My high school was serious about football - so serious that we had lights on our practice field to ensure nightfall never stopped us from becoming 'winners'.

So, as the sun was setting, my teammates and I were anxiously trying to wrap things up before the dreaded words "turn on the lights" came out of my coach's mouth.



Standing in the slot position, I was set to defend an oncoming defensive end from reaching the quarterback.

When the ball was snapped, I went on the attack.

I was determined to show this guy who was boss, and more importantly, end practice early.

With my eyes fixated on the numbers on his jersey, I went for the big hit . . . darkness.


As I pulled clumps of grass out of my facemask and got back on my feet, I witnessed my own worst nightmare - my quarterback hurled into a ball on the ground with the defensive end jumping up and down in excitement.

My competitor had used a simple '"swim" move to face-plant me and sack the quarterback.

Around that time my coach threw his clipboard and began hurling insults in my direction.

I'm pretty sure "waste of human flesh" made it out of his mouth during his tirade.

I was ruined.


Yet, when the verbal abuse finally ended, my coach took me by the arm to discuss the "fundamentals" of blocking the pass rush.

I guess he understood that I'd never been taught the basics of my new position.

In that very moment, I learned an important lesson.

Countering the pass rush is more about defending, and not attacking.

You see, it's all about keeping a solid base and using the momentum of the defensive player to take him outside of the pocket.

It's more reactive than proactive.


Just a few tips and a short lesson later, I now possessed the fundamentals which made me a successful player throughout the season.


Thanks coach.

Though I'm no longer on the football field, I'm constantly reminded of that lesson throughout my life.

Whenever taking on a new challenge, it's important to master the fundamentals.

Taking shortcuts or relying on luck will only take one so far.

Today, in my role as a food and lifestyle writer, the problem I most encounter is that readers lack fundamentals in the kitchen.

I'm not talking about how to boil water - that excuse is more about ignorance than anything else.

Instead, I'm talking about the basic skills or recipes that each man should possess as part of their culinary repertoire.



Over the past year, I've been fortunate to write several posts for The Art of Manliness related to easy, healthy, and simple meals.

Now that I'll be taking on a monthly column, I figured it prudent to get back to the fundamentals.



I'm starting off this month with a simple, yet elegant dish that will serve each of you well throughout your life.

A whole roasted chicken is an incredibly affordable and foolproof way to entertain guests or feed a family.

Better yet, it's another one skillet meal.

Spend about 30 minutes putting this dish together, and move on to other tasks while waiting for the oven to do it's magic.

The aromas coming out of your kitchen will be incredible, but do not open the oven until at least an hour and fifteen minutes into the process.

Trust me.

Cracking the oven door will release all of the heat, stalling the cooking process.


A meal all-in-one: lean protein, vegetables, and starches make this a healthy, balanced dinner.

Of course, you can round out this dish with a simple salad.

I've included a basic 'house salad' recipe that will go along nicely.



Serve with either a dry white wine or lighter reds (Pinot Noir, Cotes du Rhone, etc.)


Enjoy!


MM


P.S. I need your help.

In the comments, let me know what you'd like to learn in the kitchen.

Whether it's knife skills, or how to make fresh pasta, a perfect rib roast, or even a salad dressing, I'll take all of your thoughts into consideration throughout the year.


4 Cups Chopped Green Leaf Lettuce, loosely packed
¼ Small Red Onion, thinly sliced
¼ Cup Extra Virgin Olive Oil
1 ½ Tablespoons Red Wine Vinegar
½ Teaspoon Fresh Cracked Pepper
½ Teaspoon Italian Blend Seasoning
Combine greens, tomatoes, and onions into a large serving bowl.

In a separate mixing bowl, combine oil and vinegar, mix vigorously to combine ingredients.

Pour the mixture over salad and season with salt, pepper, and Italian blend seasoning.

Toss well and serve.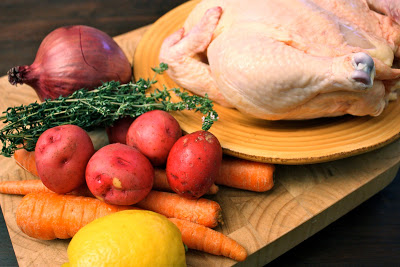 Roasted Whole Chicken with Vegetables

1 5 - 6 lb Roaster Chicken
Extra Virgin Olive Oil
Kosher Salt
Fresh Cracked Pepper
Fresh Thyme
1 Head Garlic, cut in half
½ Lemon
Unsalted Butter
Butchers Twine
2 lbs Petite Red Potatoes, quartered
1 Red Onion, roughly chopped
10 Carrots, peeled

Preheat oven to 425 degrees F.

Thoroughly rinse chicken, removing neck and giblets, and pat dry.

Coat the outside of the chicken with olive oil and season liberally with kosher salt and fresh cracked pepper.

Season the cavity with salt and pepper and stuff with garlic, ½ lemon, and about 10 sprigs of fresh thyme.

Carefully pull back the skin from the breast, creating a small pocket, and work about a tablespoon of butter between the skin and the meat for each breast.

Finally, tie the legs together using butchers twine.

In a shallow roasting pan or large cast iron skillet, add the remaining vegetables.

Drizzle the vegetables with olive oil, season with salt and pepper, and toss until evenly distributed.

Place the chicken on top of the vegetables (breast side up) and roast in the oven, 1 hour 15 minutes - 1 hour 30 minutes, or until the juices run clear when you cut between the leg and the thigh.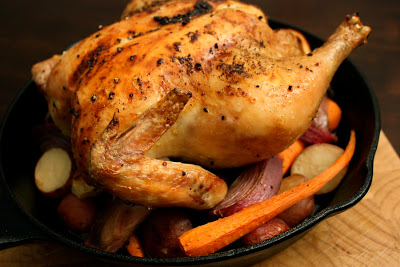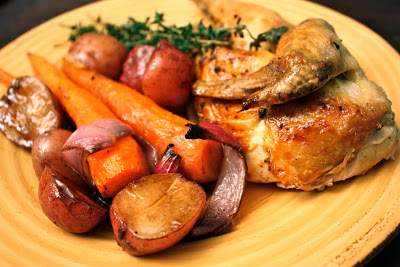 Remove the chicken from the oven and rest for at least 10 minutes before serving. Slice the chicken and serve immediately with the cooked vegetables.