My lady and I are always trying to satisfy our want for tasty, traditional foods - without the guilt and headache that comes with an overly fatty, carb-laden meal.
Let's get real - a diet loaded with carbs is something I love - especially when marathon training. But when I'm not training - It's that same carb heavy diet that tends to pack on the pounds.
I'm often finding creative ways to get the same delicious payoff without the carbs.
Take this meal for example - German inspired comfort food at its finest - with some nice 'substitutions' that actually make this meal healthier than one might originally think.
My cooking technique described below allowed me to use the minimal fat from the Turkey sausage as my flavoring agent/butter/oil. In other words, I didn't have to add anything else.
Notice I also said Turkey sausage. These days I've been subbing quite a bit of Turkey into my normal dishes - bolognese, breakfast sausage, bacon, etc. Don't get me wrong - I love pork. But from time to time it never hurts anybody to make a switch.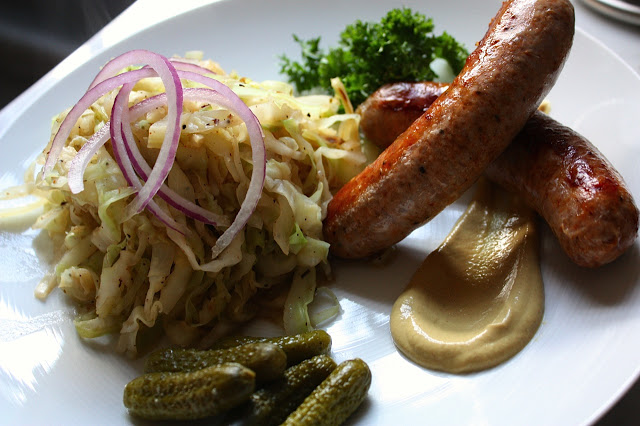 German Braised Cabbage + Turkey Sausage
1 lb Turkey Sausage Kielbasa, Italian, etc, raw
1/2 Head Green Cabbage, shredded
Red Onion, thinly sliced
Assorted Pickles
Spicy Brown Mustard
Heat a large saute pan over medium high heat. Add sausages, and cover with about 1 inch of water. Slowly cook sausages in a simmer for 6 - 8 minutes. Remove sausages and reserve 1 cup of cooking liquid. Place the same pan back over medium heat and brown sausages for 2 - 3 minutes each side, remove and tent with foil to keep warm. Add cabbage and saute in the turkey fat. Deglaze with reserved cooking liquid and continue to saute, uncovered, until cabbage is tender - about 6- 8 minutes. Season to taste with salt and pepper. When ready for service, place a heaping of sauteed cabbage on the plate and top with thinly sliced red onion. Serve alongside sausage, mustard, and pickles.