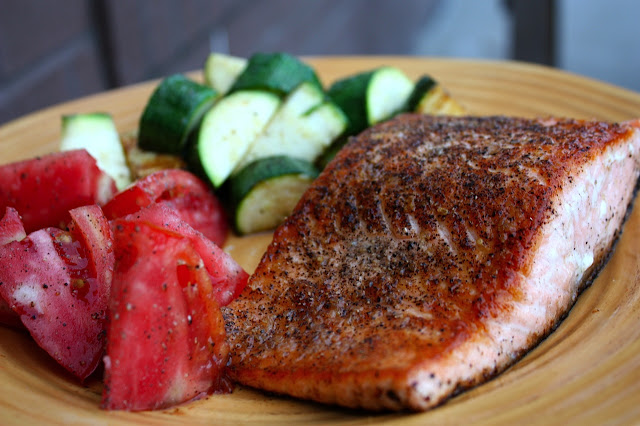 I took a spin over to the Nashville Farmers Market yesterday to pick up some farm fresh tomatoes and zucchini. Unfortunately, the confines of my urban living situation do not allow me to grow simple things like tomatoes, herbs, etc. For the next few months, I'll be relying on my friends at the farmers market to supply me with such greatness.
I always love the changing from Spring to Summer. I eat less, and I eat lighter. In other words, I get back down to my preferred fighting weight without much fuss or hassle. I'm not tempted by those heavy stews, gumbos, or chili's of Fall and Winter - much less the heavy Amber beers or Whiskey cocktails.
This meal was quite simple. A fresh, wild piece of sockeye salmon seared in my cast iron skillet for a few minutes on each side. Seasoned up with kosher salt, fresh cracked pepper, and a dash of lemon juice - this salmon was absolutely perfect. I tossed in some roughly chopped zucchini and hit them with some EVOO, salt and pepper, and sauteed them alongside the salmon until just tender and warmed through. Finally, I quartered up some fresh tomatoes and brought out their flavor with just a bit of salt and pepper.
The result?
Perfection.
Looking good has never eaten so well.
MM