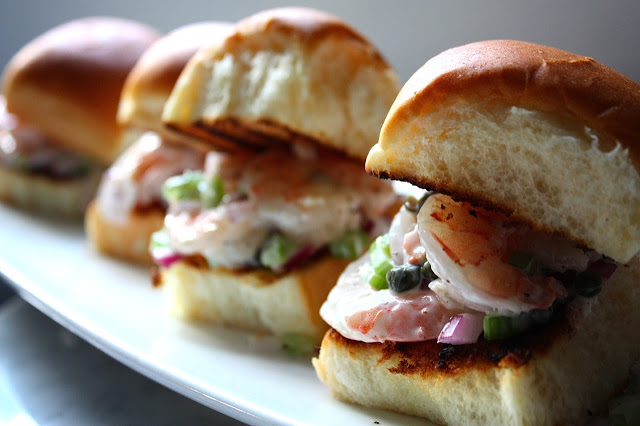 The folks over at The Daily Meal are featuring my recipe today.
Classic Shrimp Roll
(Prep 10 mins, Cook 5 mins, Serves 4)
- an accessible 'play' on the classic lobster roll, shrimp rolls are a delicious summer time treat perfect for long weekends at the lake or beach. This no-fuss recipe allows the flavors of the tender and sweet shrimp to shine through - without breaking the pocketbook.
1 lb Cooked Large Gulf Shrimp, peeled and deveined and sliced in half lengthwise (see instructions below)1/2 Red Onion, finely chopped2 Stalks Celery, finely chopped
2 Tablespoons Capers, drained1/2 Lemon, juiced
2 Tablespoons Mayonnaise
1 Dash Tabasco
1/2 Teaspoon Kosher Salt
1/2 Teaspoon Fresh Cracked Pepper

4 Fresh Sweet Rolls, cut in half and toasted

Combine all ingredients, except for the rolls, into a mixing bowl and carefully mix until thoroughly combined. Add a generous serving of the shrimp mixture to the bottom side of each toasted roll, top with remaining slice. Serve.

*To cook the shrimp, bring 6 cups of water and 1 teaspoon of kosher salt to a slow boil over high heat. When water reaches a boil, add shrimp, remove from heat, cover, and allow shrimp to poach in the liquid for 5 minutes - or until bright pink and firm. Strain shrimp and place in an ice bath to stop the cooking process. After 1 minute, remove shrimp from ice bath and carefully peel and devein shrimp. Finish by slicing the shrimp in half lengthwise for use in the mixture above.