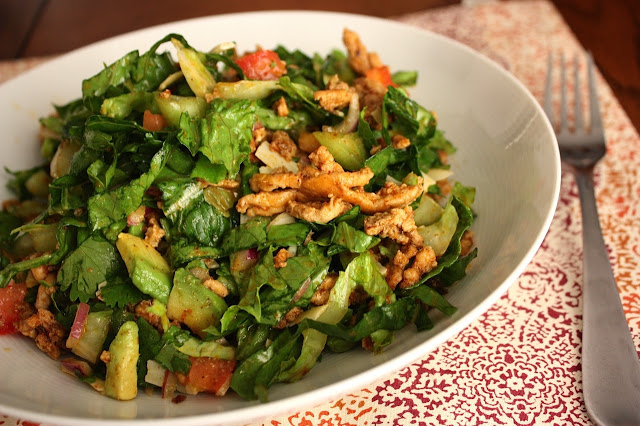 I'm just coming off another great trip to P.E.I (more on this later). It was a long week of work - cooking for lots of folks and trying to please the crowd. At some moments I felt like David Copperfield trying to pull some magic off with constantly changing equipment, ingredients, and scenarios. Nevertheless, it was all a success, and another year is in the books. Thanks to the team for all the help.
I've got 3 'quiet' weeks till I hit the road again for another trip to the San Juan Islands.
Let's just say that I'm using these 3 weeks to get re-focused on diet and health to ensure I'm in tip top shape when I hit the water. Too many lobsters, Gahan House Beers, PEI Mussels, Oysters, and beers, beers, beers over the past week or two.
So I'm settling back into lean proteins, slow carbs, and cutting out the alcohol. Call it a binge and purge, but I like to set realistic short term goals to get back on track.
That said - I don't like to sacrifice flavor.
Taking it all in stride, I challenge myself to create recipes that cut out all the nonsense, while still maintaining BIG flavor. This dish is just that - low carb, low cal, BIG FLAVOR. And I mean BIG.
We all love Mexican foods high in spice and loaded with cool sour cream, guac, creamy dressings, and crunchy textures. Well, this dish will make you forget about all that carb and fat laden goodness. This dish simply tastes FRESH.
What are you waiting for? Make it tonight - I promise you won't be disappointed.
'Junk' Taco Salad
- a play on the name as this dish is anything but 'junk'. Instead, we combine all the ingredients together - without all the fat and carb laden ingredients typical to this classic dish. Fresh, light, and healthy.
(Prep 10 mins, Cook 15 mins, Serves 2 - 4)
For the Meat:
1 Teaspoon EVOO
1 Fresh Jalapeno, diced
2 Cloves Garlic, minced
1 lb Ground Chicken (50% less fat than Lean Ground Beef!)
1 Tablespoon Kosher Salt
1/2 Tablespoon Fresh Cracked Pepper
2 Tablespoons Chili Powder
1 Teaspoon Cumin Powder
1/2 Cup Water
Pre-heat a cast-iron skillet over medium heat - add oil. Saute jalapeno and garlic for 1 minute - add chicken and seasonings. Brown chicken for 3 - 4 minutes, add water to deglaze, and continue to cook until chicken is cooked through - about 5 minutes. Remove from heat.
For the Dressing
:
1/3 Cup EVOO
2 Limes, juiced
1 Pinch Kosher Salt
1 Teaspoon Chili Powder
1 Teaspoon Cumin Powder
Whisk all ingredients together, set aside until ready to dress salad.
For the Salad:
1 Head of Romaine Lettuce, sliced into thin strips
1 Cup Fresh Cilantro, roughly chopped
1 Cup Low Fat Jalapeno Cheddar Cheese, roughly grated
1/2 Red Onion, finely diced
2 Vine Ripe Tomatoes, seeded and finely diced
1 Hass Avocado, small dice
To Serve
:
Combine
all salad ingredients into a large salad/serving bowl. Using a slotted spoon, add cooked chicken to salad ingredients. Finally, add dressing and toss salad until well incorporated - season to taste with salt and pepper.
Enjoy!
MM