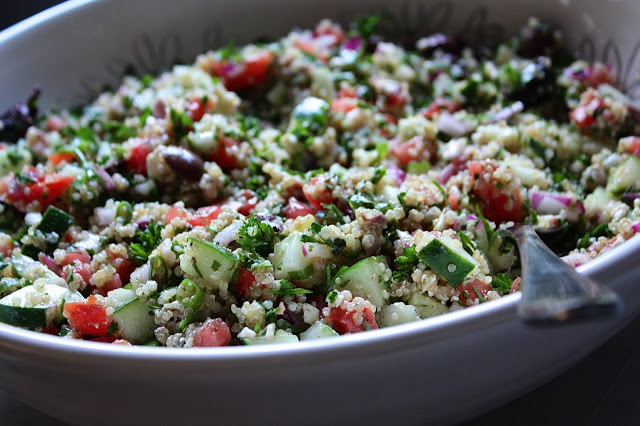 Okay, I'll admit it - I'm about 5 years late to jump on the Quinoa train. Regardless, I get it. What was once the 'super food' of celebrities, trainers, and athletes is now quite commonly found at big-box grocers alongside rice and pasta.
For those living a gluten / vegetarian lifestyle, it should classify as a super food. It's low caloric content (about 200 cals for 1 cup of cooked grains), low glycemic index (about 18 on a scale to 250), and high protein make this combination rare for just a simple grain.
Most assume Quinoa comes from the Orient - yet it actually originates from South America - it was prized by ancient cultures including the Incas.
Okay, that's enough for nutrition and history.
Tabbouleh has always been a staple in my family. I can remember a lone package of Bulgar wheat sitting in our pantry for when it came time to prepare this sacred dish. Since I was hosting a few folks who are gluten free for dinner - I decided to turn to the media's darling - Quinoa.
You know what - damn - it's tasty. It also worked really well in this dish.
Since I wasn't keeping traditional, I also added in a bit of feta and chopped kalamatas to give this salad a bit more heft and bulk - it made for a nice addition.
Be sure to make a bit more too - it just gets better with time - put a little away before you serve to enjoy as a quick and healthy leftover lunch.
Cheers!
MM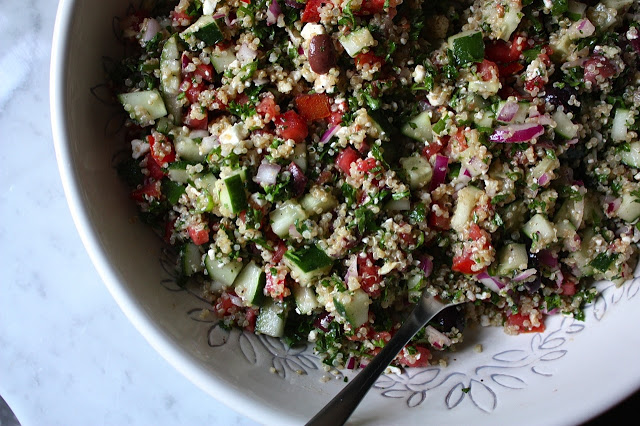 Organic Quinoa Tabbouleh
(Prep 10 mins, Cook 20 mins, Serves 6)
For the Quinoa

1 Cup Organic Quinoa Grains
1 Pinch Salt
1 Glug EVOO
In a pot over high heat, combine 1 cup quinoa with 2 cups water - add salt and oil. Bring to a boil, reduce heat to low, cover and simmer for about 15 minutes. Remove from heat, fluff with fork, and allow quinoa to cool to room temp. TIP: You can spread the hot quinoa out into a single layer on a baking sheet and pop it in the freezer to speed up the process.
Put it all together
Cooked Quinoa (see above), about 2 cups
3 Cloves Garlic, minced
2 Cups Parsley Leaves, finely chopped
2 Vine Ripe Tomatoes, finely diced
1 Cucumber, finely diced
1/4 Red Onion, finely diced
1/4 Cup Green Onion Tops, finely sliced
1/4 Cup Feta Cheese
1/4 Cup Kalamata Olives, chopped
2 Lemons, juiced
1/4 Cup EVOO
1 1/4 Teaspoon Kosher Salt
1 Teaspoon Fresh Cracked Pepper
1/2 Teaspoon Allspice
Combine all ingredients into a serving bowl and mix until thoroughly combined. Taste, adjust seasoning if necessary. Allow to sit for 1 hour to meld flavors before serving.