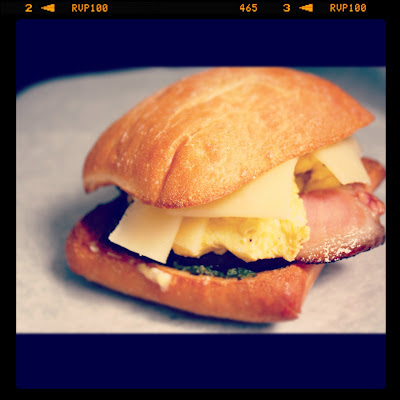 Last week, I came clean on taking a kitchen shortcut by utilizing store bought pesto to create my killer pesto + shrimp pasta (see prior post below). Based on your overwhelmingly positive responses, it seems that taking my shortcut wasn't such a bad thing after all.
Well, I had some pesto leftover, and you know how I feel about eating the same thing two days in a row. Hmm, what to do.
Inspired from a sandwich I once had at PEI's Casa Mia Cafe, I took matters into my own hands - Southern style.
You see, we Southerners certainly love our pork. Whether it's in the form of bacon, belly, chop, loin, or pulled - it truly is the 'meat of the gods'. That's why I always keep a hock of salt cured country ham in my fridge. Whether to serve hot off the griddle, or as a base in stocks, greens, or risotto's - it's one of my favorite 'go-to' ingredients.
Of course, when it came time for a 'breakfast on the go' - I started perusing my fridge and pantry for anything I could find. A ciabatta roll, a few eggs, a slice of ham, some sharp Wisconsin white cheddar, and . . . you guessed it - that leftover pesto!
My creation, served hot and wrapped up in parchment paper was the perfect way to start a 6 hour road trip to visit family in MS.
Take note that I prefer not to melt the cheese prior to assembling this sandwich. Instead, I find that sliced thin, and just slightly melted from the heat of the toasted bun, this cheese really pushes through a nice nutty flavor, and sharp bite. Do as you wish - melted or not melted - this sandwich is still delicious.
Country Ham + Egg + Pesto Breakfast Sandwich
1 Ciabatta roll, sliced in half and toasted
2 Tablespoons Pesto, prepared
Wisconsin Sharp White Cheddar, thinly sliced
1 Slice Country Ham, pan fried/grilled
2 Eggs, Scrambled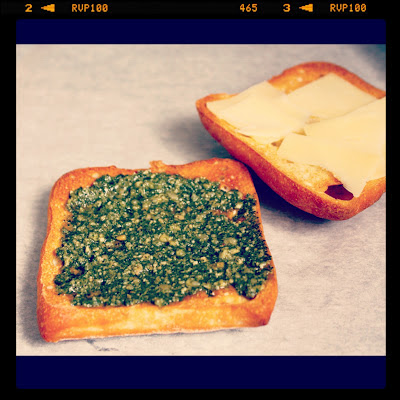 Toast bread, smear with pesto and top with cheddar.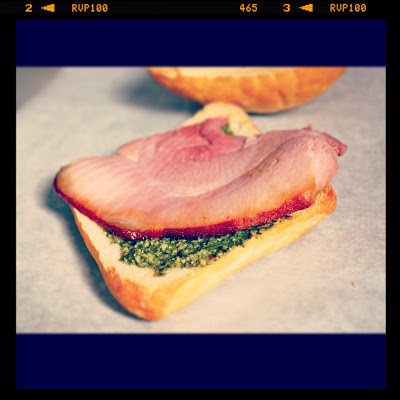 Top with pan fried Country Ham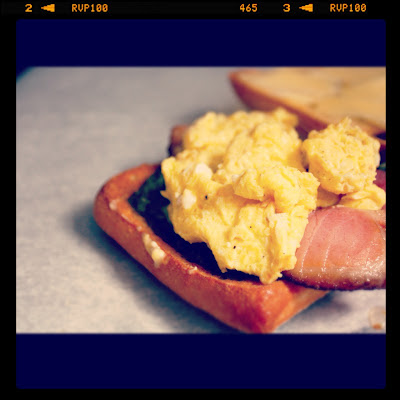 Next add freshly scrambled eggs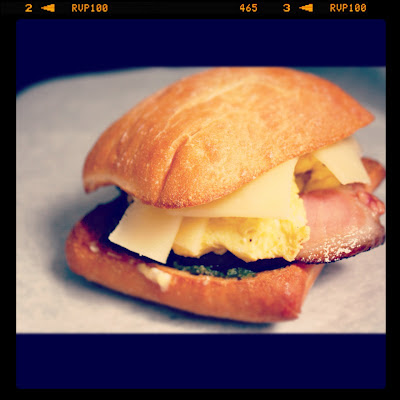 Top off and serve!