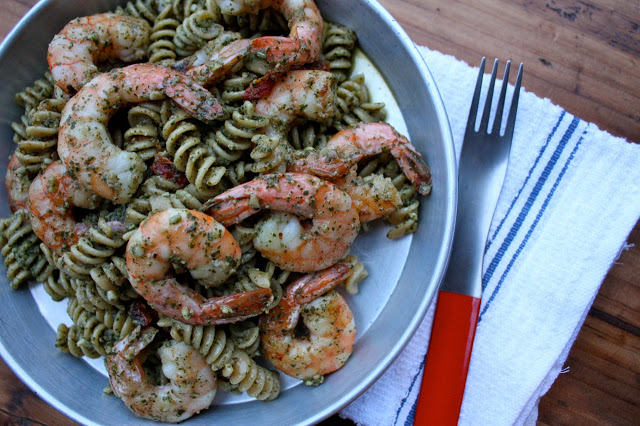 In the past, I've never been afraid to admit that I
take shortcuts
in the kitchen from time to time. In fact, for the everyday guy or gal that finds cooking to be troublesome, I actually encourage the semi-homemade approach.
Of course, I say that full and well knowing that the Sandra Lee jokes will soon start to follow. More or less, what I'm trying to say is that you don't always have to make everything from scratch to pull off an outstanding, healthy meal at home.
Take this recipe as an example. I often find inspiration while walking the aisles of the grocery store - surveying what's on sale, what looks good, etc. as a guide to my nightly meal. Whole Foods had some fresh GA shrimp on sale, so that was my starting point. The unseasonably warm weather also had my mind focused on bright, fresh flavors. But alas, my basil plant has yet to sprout, and purchasing enough of those $2.99 packets of fresh basil to make my own pesto would have been, well - unreasonable.
So I took a shortcut by picking up a freshly prepared jar of basil in the refrigerated section at the store. Don't get me wrong - I'd always prefer to make my own pesto, assuming I have the ingredients on hand - fresh basil, toasted pine nuts, Parmigiano Reggiano cheese, and EVOO. It's quite simple actually. But without these ingredients on hand, it can be pretty expensive.
Better yet - the store-bought pesto turned out to be pretty darn good.
So, the next time you are thinking about hitting up the drive through or giving in to an expensive restaurant meal, think about taking a shortcut AT HOME.
It's cheaper, healthier, and more satisfying than letting someone else do all the work. Even if you did 'cheat' - just a little.
Cheers!
MM
Pesto + Sun-dried Tomato + Shrimp Pasta
(Prep 5 mins, Cook 15 mins, Serves 2)
10 oz Dry Barilla Plus Rotini Pasta
Extra Virgin Olive Oil
1/2 lb Fresh Large Shrimp, peeled and deveined, tails on
1/2 Cup Sun-dried Tomatoes
1 Cup Prepared Pesto
Bring a large pot of salted water to a boil over high heat. Add pasta and cook for 10 - 11 minutes, or al dente. Drain pasta and set aside to keep warm. Meanwhile, add olive oil to a skillet over medium heat; add shrimp. Saute shrimp for 3 - 4 minutes, or until just pink and firm. Add pasta, tomatoes, and pesto to the pan and toss until thoroughly combined and shrimp are cooked through. Transfer to a plate and serve. (Can also be served at room temp/cold)