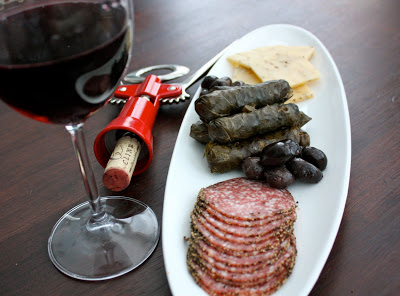 I'll admit - the title to this post seems a bit strange, if not flat-out confusing. After all, shouldn't I be enjoying cheese, wine, cured meats,
stuffed grape leaves
, and red wine to the likes of Sinatra, Pavarotti, or some other Italian crooner?
Instead, I'm diving into friend Luke Bryan's new album,
Tailgates and Tanlines
. For those of you unfamiliar with Luke and his music, just turn on the television, open a magazine, or check out his album on iTunes (currently at #2).
It's no secret that food and music have a great affinity for one another. Casual jazz at an outside bistro transforms a weeknight meal into a vacation. But just like an unconventional wine pairing (Cabernet + Dark Chocolate, Chardonnay + Deep Fried Speckled Trout, Expensive Cotes du Rhone + Cheap as shit Tombstone Pizza), sometimes I like to change up the soundtrack to my meals. The more unusual the better.
The result? I am pleased - and it's not just the wine talking.
A huge prop to Luke and his entire band, crew, and team on this great (3rd) album. I'm 2 spins through (still eating and drinking) and I'm gonna go ahead and say that this is his best thus far. Couldn't happen to a harder working group in Nashville. It also helps that they are all great people. Proud of Michael Carter (guitarist) for landing a great cut as well,
Faded Away
. Sure I'm biased, but I hear a single.
Country music ain't all about corn bread and chicken. We dress up every once in a while . . . even though we still wear our cowboy boots to a black tie affair.
Cheers!
MM