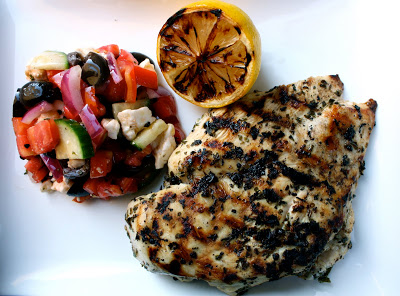 As a kid, I was fortunate to spend time during several of my summers in Sarasota, FL. For my sister and I, spending time sans parents, and with Aunt Marcia and Uncle Al was an escape into a world very different than our home in Lilburn, GA. Our mornings were passed on the golf course, enjoying an afternoon lunch at the club, followed by an evening meal at one of the many fine establishments that scatter the Sarasota/Long Boat/Siesta Key communities.
To be fair, I'm sure Mom and Dad enjoyed our time away with equal enthusiasm.
Nevertheless, my beloved Aunt and Uncle were "foodies" before the word became fashionable in magazines and blogs. In fact, I remember enjoying some of my very first "culinary discoveries" while spending time at their home: cured salami, roasted leg of lamb, mint jelly, scrambled eggs with heavy cream, homemade fettucini alfredo, club sandwiches, and baked chicken with feta.
I'm always appreciative of the insight they provided. It was a look into a culinary world different than my own. Don't get me wrong, momma is my hero in the kitchen . . . but like anything else, it's life's experiences that open our minds and shape our impressions for years to come. I have happy memories of those times.
In fact, I was thinking of those days as I prepared this meal on a hot, humid, summer day here in Nashville, TN. (Much like the FL weather during the summertime)
This is certainly a dish that I've made all of my own, yet I enjoy it more with each bite when I think about the careless days spent among friends and family of my youth.
Cheers!
MM
Lemon-Oregano Grilled Chicken
2 Chicken Breasts, pounded thin
1 Lemon, juiced
2 Tablespoons Extra Virgin Olive Oil
1 Teaspoon Dried Oregano
1/2 Teaspoon Kosher Salt
1/2 Teaspoon Fresh Cracked Pepper
Allow chicken breasts to sit in the remaining ingredients for 30 minutes. Meanwhile, preheat a grill over medium high heat. Grill chicken over direct heat for 2 minutes, turn 45 degrees, and cook for another minute (creating nice grill marks). Flip chicken, move to indirect heat, and grill until firm to the touch and cooked through, 3 - 4 minutes. Remove from grill and rest for 2 minutes. Serve.
Greek Chopped Salad
2 Vine Ripe Tomatoes, diced
1/2 Small Cucumber, diced
1/4 Small Red Onion, diced
1/4 Cup Kalamata Olives, diced
1/4 Cup Crumbled Feta
1/2 Teaspoon Kosher Salt
1/2 Teaspoon Fresh Cracked Pepper
3 Tablespoons Extra Virgin Kalamata Olive Oil
1 Tablespoon Red Wine Vinegar
Combine all ingredients into a mixing bowl. Mix thoroughly, cover and set aside until ready to serve.