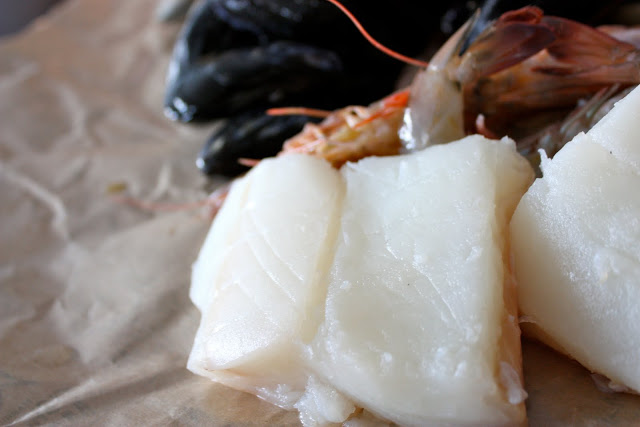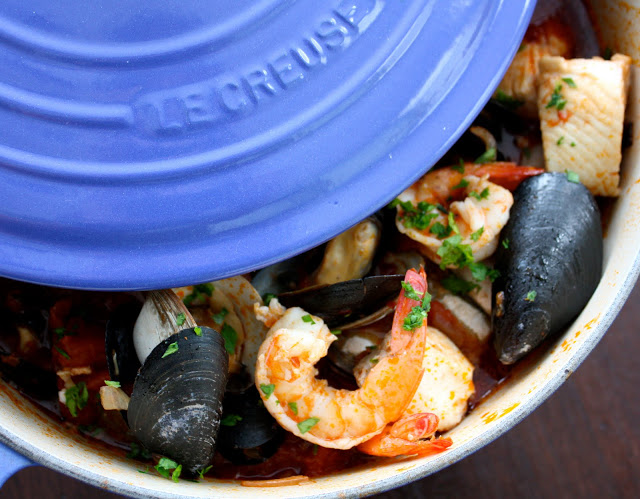 Just yesterday, I bantered about the onslaught of Fall, hinting that some of my favorite foods and opportunities for entertaining come during this season. I thought I'd share one of my favorite recipes that makes use of plenty of fresh seafood. Enjoy!
Cioppino -
A San Francisco staple, done southern style with plenty of fresh seafood from the gulf.

This hearty and satisfying stew is a nice dish to fight back the chill of autumn.

Substitute any of your favorite seafood below to create your own spin on this classic.
4 Tablespoons Extra Virgin Olive Oil
1 Large Vidalia Onion
Kosher Salt
Fresh Cracked Pepper
4 Cloves Garlic, minced
¼ Teaspoon Red Pepper Flakes
¼ Cup Tomato Paste
1 Bottle Amber Ale or 1 ½ Cups Dry White Wine
1 Large 28 oz Can San Marzano Whole Peeled Tomatoes, broken apart by hand with juices reserved
4 Cups Seafood Stock
2 Bay Leaves
1 lb Littleneck Clams, scrubbed
1 lb Mussels, scrubbed and debearded
1 lb Large Fresh Gulf Shrimp, peeled and deveined with tail on
1 lb Halibut or Salmon Filets, cut into thick chunks
Parsley, chopped for garnish
Add olive oil to a Dutch oven over medium heat.

When oil begins to shimmer, add onions, salt, and pepper; sauté, stirring on occasion for 10 - 12 minutes, or until onions are translucent and tender.

Add garlic and red pepper flakes and sauté for another 2 minutes.

Next, add tomato paste, mixing well to combine with the onions.

Deglaze the pan by adding either the beer or wine, scraping up any of the browned bits from the bottom of the pan using a wooden spoon.

Add the tomatoes and their juice, seafood stock, and the bay leaves; cover and reduce heat to medium low, simmer for 30 minutes.

Next, add clams and mussels to the pot and cook covered for 5 minutes.

When clams and mussels have just opened (discard any that do not open), add the fish and shrimp, cover and cook until both are just firm, about 5 more minutes.

Remove from heat and serve in large bowls, ensuring an even distribution of seafood and broth.

Garnish with parsley and serve.