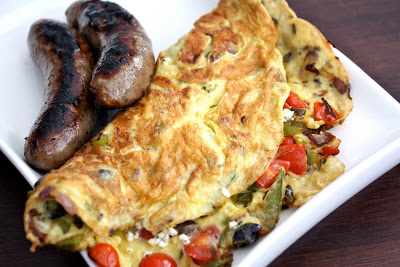 Cook. Eat. Repeat.
That's basically my plan for the day. It's a hot Saturday here in Nashville, TN and if you are any sort of regular reader of my blog, you know that this is indeed a rare day here in my camp. i.e. I'm home on a weekend!
And the best part? The Titans kick off the season tonight with a 7:00 game against the Vikings.
Anyways, I've been cooking non-stop for the past two days, with no end in sight. A few friends of mine just had a beautiful baby girl, so I signed up to make them a meal so that they could enjoy their Friday evening. In fact, has anyone heard of MealTrain? What a great site to put together, organize, and provide meals for friends. I figured that most of their meals had consisted of lasagnas and casseroles, so I wanted to step outside the box.
Greek style pork tenderloin - marinated in olive oil, balsamic, oregano, and garlic - served with caramelized onions, kalamata olives, and marinated artichokes was the main course. I did a cold orzo greek pasta salad and some grilled veggies to round out the rest of the dish. And for dessert? Grilled peaches with vanilla Greek yogurt. Oh, and a nice light Pinot Noir to wash everything down. FYI - Greek food is awesome light/comfort food on a hot summer day.
After dropping everything off I . . . well, I took advantage of being at home on a Friday night by tossing back a few cold beers with friends at several of my favorite local haunts around town. Good times.
Nevertheless, I'm moving a little slow this morning. Upon opening my fridge, however my hangover was soon to be cured. You see, I had all these great leftover ingredients to make a killer breakfast to ease my nausea and fight the sting of my headache.
It worked.
MM
Greek Omelet with Hot Pork Sausage
2 Links Hot Pork (Italian) Sausage
2 Tablespoons Extra Virgin Olive Oil
1 Tablespoon Red Onion, diced
1 Tablespoon Bell Pepper, diced
5 Grape tomatoes, cut in half
1 Tablespoon Kalamata Olives, diced
3 Eggs, beaten
Kosher Salt
Cracked Pepper
2 Tablespoons Feta Cheese, crumbled
In a cast iron skillet over medium heat, brown the sausage for 2 minutes on all (4) sides. Remove from heat and tent with foil to keep warm. Meanwhile, add the olive oil to a non stick skillet over medium high heat and saute onions and peppers until just tender. Add tomatoes and olives and continue to cook until tomatoes have softened, about 1 minute. Add eggs and season with salt and pepper. Using a wooden spoon carefully lift the cooked portions of the eggs and tilt the pan to allow the runny portions to reach the heat. Do not scramble. Continue in this manner until the eggs are set in the pan and no runny portion remains. Add the cheese to one side of the eggs, and fold over the other side. Serve omelet with pork sausage on the side. A cold beer with breakfast is optional, but highly recommended.