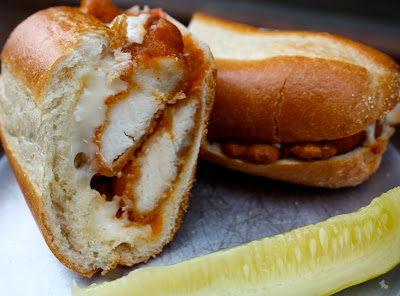 One of my more popular posts here on HHOFD is my
Grilled Flank Steak Sandwich with Garlic/Basil Mayo and Caramelized Onions
. Check it out asap, as it's rather tasty.
This got me thinking . . . after all of the hard work that I put into creating outstanding meals - do people really just want to read about sandwiches?
I thought it prudent to call on a good friend and former Athens, GA legend Kirk Alexander to assist in my quest.
I've called on Kirk to describe one my favorite sandwiches, The
Jimbo
. This sandwich is arguably the best sandwich I've ever eaten in my life, at arguably one of the greatest establishments that ever existed,
Son's of Italy
.
Over the next few weeks, I will be trying to recreate this sandwich, all the while calling on guest authors who will provide you with a glimpse into a great piece of culinary and college history.
Ladies and gentleman, I give to you Kirk Alexander (ladies - he's single).
-------------------------------------------------------------------------
You really knew what you were working with within the first two bites. Was the bread too soft or was it burnt? Too much (or not enough) cheese? Ample portion of chicken? How spicy was it? Did you choose fries or chips? Did they forget the pickle? Is someone really playing Exile on Main Street in its entirety on the jukebox? All of these questions would be considered - and emphatically answered - within the first two minutes of picking up your Jimbo sandwich from Sons of Italy in Athens, GA. These questions had to be conquered in order to properly grade the finest spicy breaded chicken & mozzarella sub sandwich ever offered in a patio restaurant/bar/hippie shanty setting.
You see, me and my group of friends/roommates in college would give the Jimbo a grade (ranging from C-minus to A-plus) each time we ate it (which was at least once a week - Sons on Sundays at 5 PM was our church service - throughout college). And it wasn't merely a sign of how tasty the sandwich was that day. It was also an indication of who was working the kitchen, who was pouring the $6 pitchers of Miller Hi-Life, what jam band legends were drinking sea-breezes and bitching about the Atlanta Braves' current losing streak, and what hippie chick was taking the orders (and what pharmaceuticals she had in her system at the time).
Sons of Italy was, above all else, an atmosphere. And the college kids (mostly Greek-system products) who flocked there kept returning because the atmosphere was perfect for Athens in the 1980's through the early 2000's. I spent the better part of my food and beverage budget at Sons (specifically on Jimbos and Hi Life) because I enjoyed the people, not to mention jukebox spins were $.25 a song. Sundays and Thursdays were the best times to go to Sons and kick back with your buddies and talk about life as we knew it at the time (main topics of discussion being that hot Zeta or Tri-Delt you saw at last week's social, plans for Georgia-Florida, Panic's recently-released tour dates and, of course, the Dawgs' prospects for the fall).
Hell, I spent so much time at Sons that I knew the staff and the establishment inside and out. I knew that Danny would give an extra pickle spear to regulars. I knew that Kellie loved baseball T's and Curtis Mayfield. I knew that the guy who signed his bathroom graffiti "Da Broiler" was really Billy from Pi Kap. I knew that Darren the bartender was a heavy pour (meaning we shunned Hi Life for vodka tonics when he worked) and showed up drunk & stoned to softball games (yes I even played on the Sons intramural team for a season). And in the greatest piece of intel, I knew that if you tried to play B08 the jukebox would somehow malfunction and play N03 (turning Steely Dan's Peg into Walk of Life by Dire Straits). It was like an inexplicable black hole of the music universe.
Whoever made the decision to move Sons to the east side (effectively giving the restaurant and the lifestyle it enabled a death sentence) has a lot of blood on his hands. Sons of Italy and the Jimbo sub were Athens institutions, and I'm happy to have had my moment in time with both of them. While the Jimbo's grade may have fluctuated from time to time, Sons always got an A+. Except for when it was at capacity and you had to retreat across the parking lot to Steverino's.
No one wants to eat at Steverino's.
















Well said Kirk. Tonight I'm trying to emulate this sandwich for what it was. No frills, i.e. frozen chicken tenders. The result? In the words of John Bell, I'm satisfied.
The Jimbo Sandwich

1 Sub Roll, sliced (Publix Sub Roll)
2 Large Frozen Chicken Tenders (Tyson Southern Style Tenderloins)
2 Tablespoons Hot Wing Sauce (Crystal Louisiana Hot Sauce)
1/2 Cup Mozzarella Cheese (Grated, do not buy packaged)
Blue Cheese Dressing, for dipping (Naturally Fresh Brand)
Prepare chicken tenders according to instructions (oven or fried). While hot, toss in wing sauce and add to the sliced sub roll. Top the remaining sub roll (cut side) with mozzarella cheese. Add sandwich to an oven heated to 500 degrees F until the edges are browned and the cheese is melted. Serve with blue cheese dressing, a pickle spear, fries, and a cold Miller Hi-Life.