My social life got the best of me today, well, almost. I was able to maintain a somewhat healthy day by indulging here and there, but it is what it is . . .
Breakfast
-
Western Omelete
1 Tablespoon Extra Virgin Olive Oil
1 Tablespoon Onions, finely diced
1 Tablespoon Bell Pepper, finely diced
1 Tablespoon Smoked Organic Ham, diced
2 - 3 Whole Eggs, beaten
Pinch Salt
Pinch Pepper
2 oz Reduced Fat Sharp Cheddar, grated
In an 8 inch non-stick skillet, saute vegetables and ham in oil for 2 - 3 minutes, or until just tender. Add eggs, season, and allow to set in pan. Carefully lift cooked egg portions off the bottom of the pan, while tilting the pan to allow the runny portions to reach the heat. Continue until egg portion is set on bottom. Using a quick flip of the pan, or by using a spatula, flip omelete, add cheese, fold, and finish. Voila.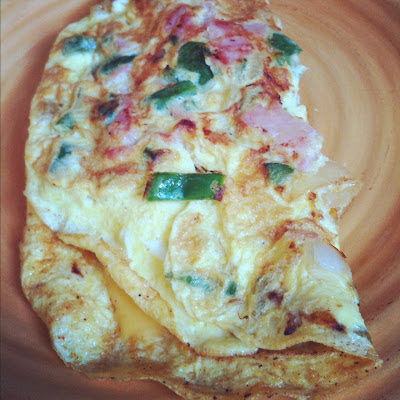 Lunch
-
Lunch meeting out - I lightened up a heavy salad by having the chicken grilled and going easy on the dressing.
Chicken, grilled and sauced w/ Buffalo Sauce
Blue Cheese Dressing, no more than 2 tablespoons
Lettuce
Tomato
Red Onion
Celery
Dinner
-
I had dinner over at Jeff and Jes' house - good times to celebrate a belated b-day. Jess made a great pasta dish with fresh vegetables and whole grain penne pasta and a salad. I grilled a pork tenderloin with a blackberry sauce. A good mix of lean proteins, veggies, and whole grains. My indulgence came from a few glasses of Zin, and a delicious chocolate cookie/cake treat she made.
Grilled Pork Tenderloin
Whole Grain Pasta + Vegetables
Salad
2 - 3 Glasses, who's counting, Zinfandel
1 Cookie
Workout
15 mi Trail Bike Ride
3 x 50 Abs