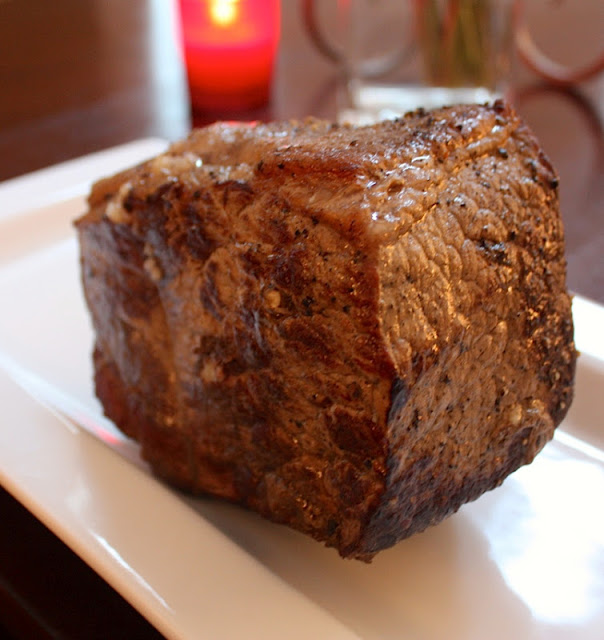 The past two Sundays that I've been in Nashville, I've had a few of my closest friends to enjoy the bounty of all-day cooking. I typically start working on my roast right after church, head down to the farmers market in the meantime, and then prep everything, clean-up, and be ready to serve for an early Sunday supper. That was just the case this week when Jef and Jes came by to enjoy an early Sunday Supper - the result? Fantastic.
Sunday Roast Beef
1 3lb Rump Roast
8 Whole Cloves Peeled Garlic
Kosher Salt
Fresh Cracked Pepper
1 Large Onion, roughly chopped
2 Cups Red Wine
10 Whole Carrots, ends trimmed, unpeeled
Preheat oven to 325 degrees F. Next, preheat a Dutch oven over medium high heat. Meanwhile, use a knife to cut small inserts into the beef, stuffing the holes with garlic. Liberally season the entire roast with kosher salt and fresh cracked pepper. Next, sear all sides (except fat cap side) for 2 - 3 minutes, or until browned. Add onions to the bottom of the pot, set roast on top, and deglaze with red wine. Cover and place into the oven to roast undisturbed for 3 hours. (Add carrots in the last 30 minutes) Remove roast and carrots and tent with foil (15 minutes) prior to slicing thin and on the bias for service.
Pan Gravy
Beef/Wine/Onion Drippings
3 Tablespoons Flour
1/2 Cup Water
2 Tablespoons Butter
With the roast removed, skim off any fat from the top of the drippings. Next, crank up the heat to medium high on the stove top and reduce the drippings mixture by half. Make a slurry of the flour/water, and add to drippings, reducing heat to a simmer. When reduced and thickened, add butter. Serve with beef and sides.
Fresh Green Beans
1 lb Haricots Verts, cleaned
Kosher Salt
Butter
Fill a large pan with two inches of water, bring to a boil over high heat. Add 1 tablespoon of salt - blanch green beans in the boiling water for 60 seconds. Strain beans and place in an ice bath until completely cooled. When ready for service, return beans to the same pan and saute in melted butter. Season with kosher salt to taste.
Quick Garlic Mash
2 lbs Baby Red Potatoes, quartered
Kosher Salt
8 Cloves Garlic, smashed and peeled
1 Tablespoon Italian Dry Seasoning
4 Ounces Shredded Sharp White Cheddar Cheese
1 Stick Unsalted Butter
1/2 Cup Heavy Cream
Bring potatoes and garlic to a boil with a generous pinch of salt - boil for 12 - 15 minutes. Strain potatoes, and add back into the pot with remaining ingredients. User a potato masher to roughly mash the potatoes and incorporate all ingredients. Season to taste with salt.
Sliced Farmers Market Tomatoes
3 On the Vine Ripe Tomatoes
Kosher Salt
Fresh Cracked Pepper
Slice tomatoes, season with salt and pepper. Serve.